As we reported earlier this year, New York City is launching a massive e-scooter pilot program in The Bronx this year and now, the Department of Transportation has finally announced which companies will part of what will potentially be a two-year program which will be the first of its kind in the city.
Lime, Veo, and Bird are the three companies that were selected by DOT to carry out the pilot program set to begin early summer according to the city agency. When the original announcement was made earlier this year, the pilot program was scheduled to begin late Spring but it has since been pushed back.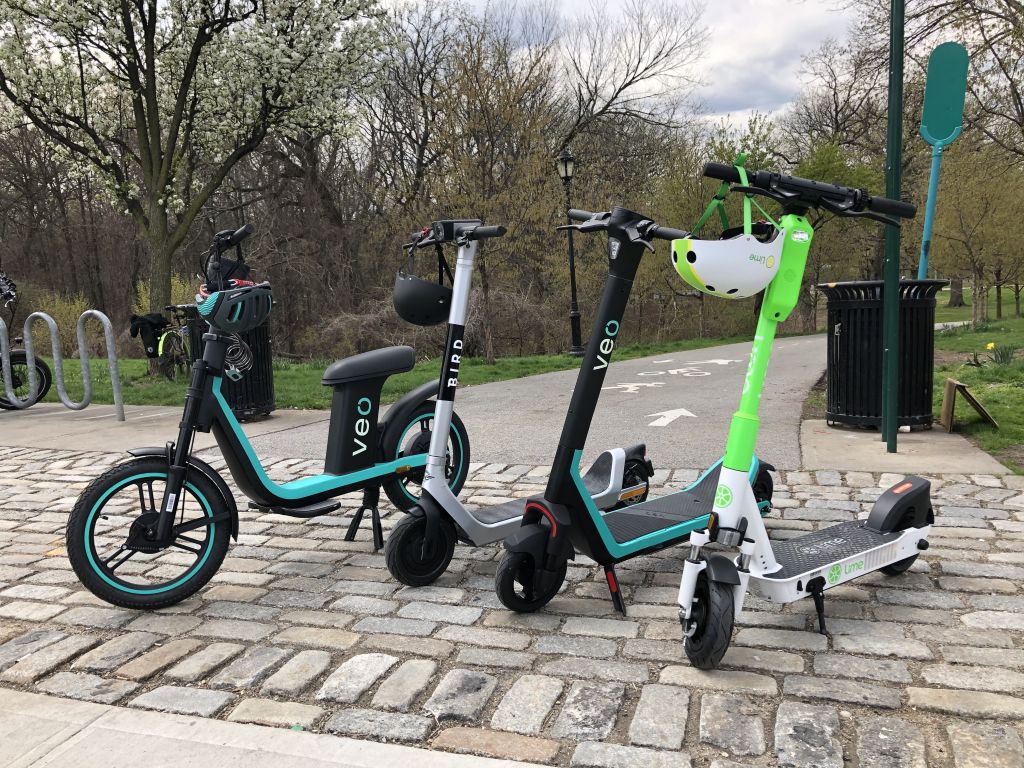 "We are proud to bring e-scooter share to the Bronx… We welcome Bird, Lime and Veo—and we look forward to working closely with them, elected officials and local Bronx communities to make e-scooter share an effective, convenient and safe way to get around." said DOT Commissioner Gutman at the press event.
The trio of companies will flood the East Bronx neighborhoods above Pelham Parkway during Phase 1 of the pilot program with 2,000 to 3,000 e-scooters covering neighborhoods like Co-op City, Baychester, Williamsbridge, Allerton, Edenwald, Eastchester, and Pelham Gardens (except City Island) and Morris Park and Van Nest to the south of the parkway with 2,000 to 3,000 e-scooters.
Woodlawn is the only neighborhood West of the Bronx River that will be part of Phase 1 (or any phase for that matter) as the pilot will not overlap with areas served by Citi Bike.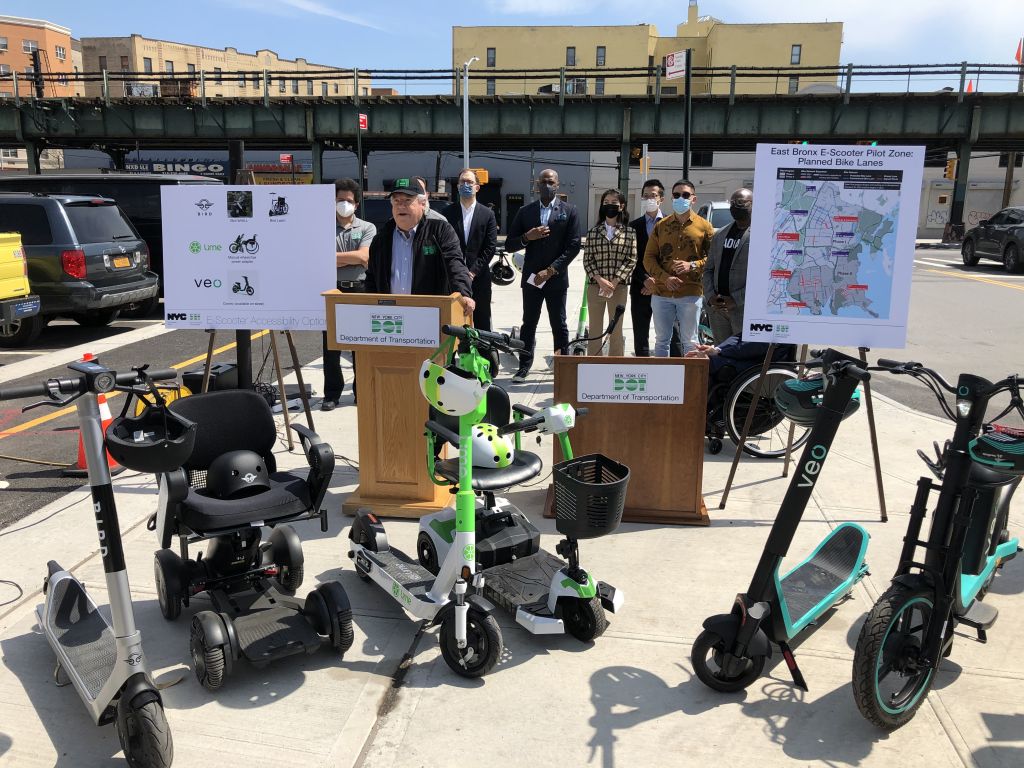 Depending on how well the pilot runs, it will then be expanded to the rest of the East Bronx (minus City Island, once again) and increasing potential e-scooter coverage to 4,000 to 6,000 providing an alternative form of transportation for the area which is often described as a transportation desert.
While New York City appears to be entering the e-scooter trend late in the game, it was done by design as DOT has been studying what has worked, or not, across other major global cities that have such ride share programs of their own.
There are many concerns among residents for safe usage of the e-scooters and one way that is being addressed is that new users will not be able to ride them above 10 miles per hour during the first 30 minutes for beginners. Once they have ridden 30 minutes, the e-scooters speed limit will be upped to 15 mph.
Other safety measures include upgrading bike lanes as well as adding new ones, something that cycling activists have long been clamoring for. These infrastructure improvements will be carried out under both phases.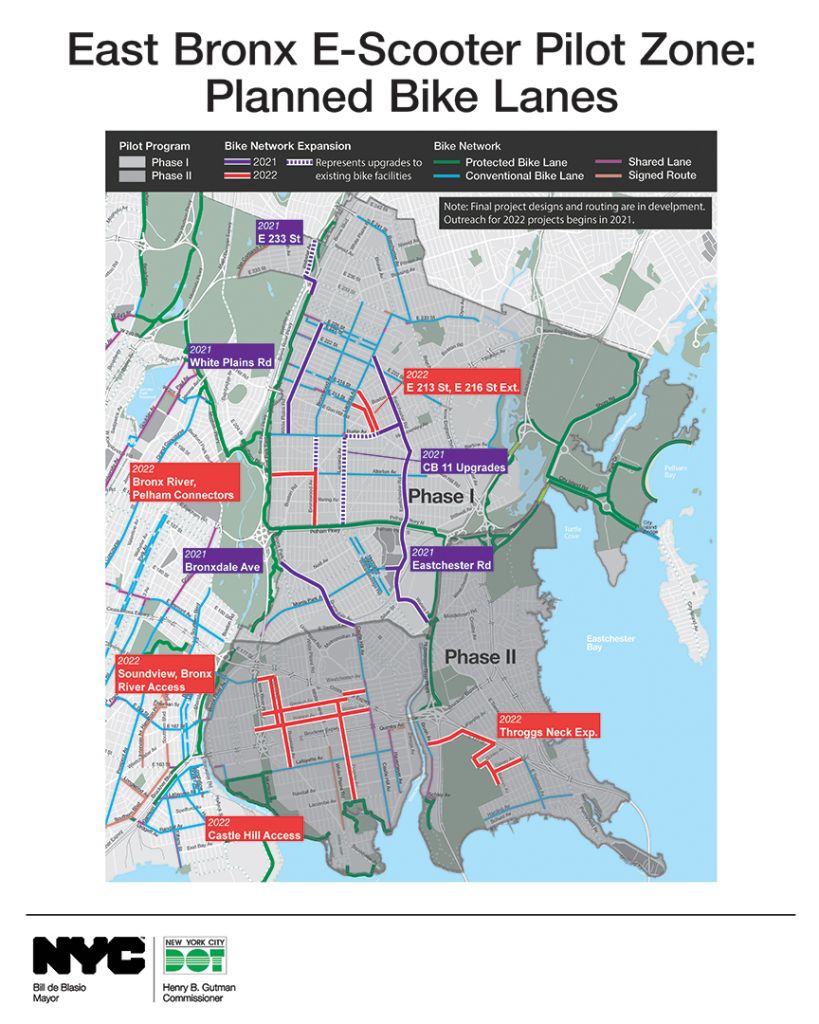 As far as pricing goes, Lime charges 30 cents a minute and Bird and Veo will charge 39 cents per minute. For all services, there will be a $1 unlocking fee. As with other ride sharing programs like Citi Bike, and Revel, there will be reduced fees for NYCHA residents and those on public assistance.
The scooters themselves will have both seated and standing options and will even have attachments to make them wheelchair accessible to make sure no one is left out from being able to enjoy this form of transportation.
Brooklyn, Queens, and Staten Island will have to wait until at least 2023 until they get added to the program as the pilot is carried out in The Bronx over the next few years and Manhattan won't even get them since they're barred by law from operating there.
It's usually The Bronx that gets such things last so it's nice to finally be first for something.