The Department of Transportation announced Thursday that the East Bronx, one of the most transit-starved areas of the borough, will get New York City's first E-scooter share program this Spring.
This will give area residents another option of getting around the neighborhood or making connections to subway stations along the 2,5, and 6 line as well as Metro North stations.
Phase 1 of the pilot program will cover all East Bronx neighborhoods north of Pelham Parkway which includes Co-op City, Baychester, Williamsbridge, Allerton, Edenwald, Eastchester, and Pelham Gardens (except City Island) and Morris Park and Van Nest to the south of the parkway with 2,000 to 3,000 e-scooters.
The northwest Bronx neighborhood of Woodlawn is also included in Phase 1.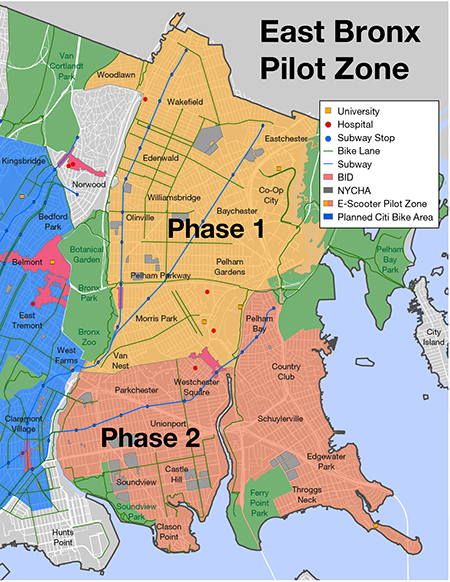 According to the press release, the pilot will allow the city for the first time to see how an e-scooter share program would work on city streets and would run for at minimum one year.
"Working closely with the Council, we are happy to deliver the city's first e-scooter share pilot — crafted to allow Bronx residents to try e-mobility to and from countless critical destinations, from Co-op City to the Soundview NYCFerry terminal," said DOT Commissioner Hank Gutman in the statement.
Gutman also said that, "…important changes to the streetscape, including new dedicated bike lanes to ease travel for e-scooters as well as bicycles in the east Bronx" will be announced in the coming weeks.
As far as alternatives to transportation goes, this is pretty exciting news given the fact that The Bronx is usually the last borough to get such programs like Citi Bike which took forever to get here.
And the selection of 18 square miles of the East Bronx as the testing ground for this new program is probably not a coincidence given the fact that Citi Bike won't be expanding this way for quite some time as they are focusing on their Bronx expansion solely in the neighborhoods west of the Bronx River.
Given that the area's almost 600,000 residents are over 80% Black, Latino, and overall BIPOC, including 25,000 residents who live in NYCHA, equitable access to the pilot will be a priority for DOT which the agency will also monitor.
DOT hasn't announced yet which company will operate the pilot program but StreetsBlogNYC reported, "…multiple companies, including Bird, Lime, Superpedestrian (with its Link scooters), Voi, Beryl and others, responded to a city request for expressions of interest on operating scooter-share programs".
Phase 2 of the program will potentially begin in 2022 and will include the rest of the East Bronx including Parkchester, Soundview, Clason Point, Castle Hill, Throggs Neck, Country Club, Edgewater Park, Pelham Bay, and Schuylerville and will increase the e-scooter presence to 4,000 to 6,000 between both phase areas.
No word on why City Island isn't included but it could be because of the distance required to get there given that the community is isolated and isn't contiguously adjacent to the street grid.
Local area resident Amelia Zaino said although she's never ridden on an e-scooter, she is nevertheless, "…excited about it and it would be helpful for traveling distances that are short but long at the same time like getting between Co-op City and Pelham Bay."
Stay tuned for more information on start dates as well as who will operate this service along with pricing and discounts.