UPDATE: Hours of operation have been updated to 6 days a week from Wednesday through Monday from 4pm to 11pm and will eventually open 7 days a week down the road.
MELROSE—The South Bronx restaurant scene just got a little more diverse with a new Japanese restaurant opening today.
Called Minato (which means harbor in Japanese), the eatery is the brainchild of Luigi Ghidetti and Mark Lu, the duo behind Porto Salvo, the popular South Bronx Italian restaurant and bar, and features a menu with many of the standard sushi and sashimi along with a well-stocked sake bar, the latter of which is perhaps the first of its kind in The Bronx.
The menu at Minato is what you'd expect at similar eateries but the first thing you notice once your food arrives is that the portions and size of the rolls are a bit larger than most places which is a refreshing change.
And while some of the fare is pretty standard for a Japanese and sushi restaurant, the flavors and presentation are definitely above what you'll encounter at most places around the city, especially in The Bronx.
According to owner Mark Lu, this was intentional and one of the things Minato's chef insisted when creating the menu.
"You can get sushi and Japanese food anywhere in the city and it's all going to be pretty much the same so we have to ask ourselves what can we do to make it different and why would someone want to come here and more importantly, back again?" said Lu.
As an avid fan and lover of sushi and all foods related, Minato certainly was an entirely different experience when we went last week for the menu tasting.
One of the most creative items was an avocado spring roll which managed to retain its vibrant green and yellow coloring despite being fried in its thin wrapper and is a must try for those who love avocados.
Other favorites of the evening was the spicy tuna roll, a vegetable roll which somehow managed to not taste like a basic veggie roll, and Minato Mussels.
But the showstopper of the evening was the house specialty, the Minato Roll which is a crab salad roll topped with Chilean sea bass and is served warm with a combination of sauces that explodes with flavor with each bite.
Besides sake, you can order several different teas of which one is the blooming flower green tea infused with other teas like Jasmine and serves as a perfect palate cleanser unless you choose to opt for the mochi which is delicious and serves the same function.
The space itself is nice and cozy with bar seating and a few indoor tables as well as outdoor seating in the front. The backyard is currently under construction for additional outdoor seating and will be styled to give patrons a taste of a Japanese Buddhist garden as part of the experience.
As someone who loves sushi and Japanese food and would often eat it several times a week, it's nice to have one in my own backyard that I can easily walk to and support locally.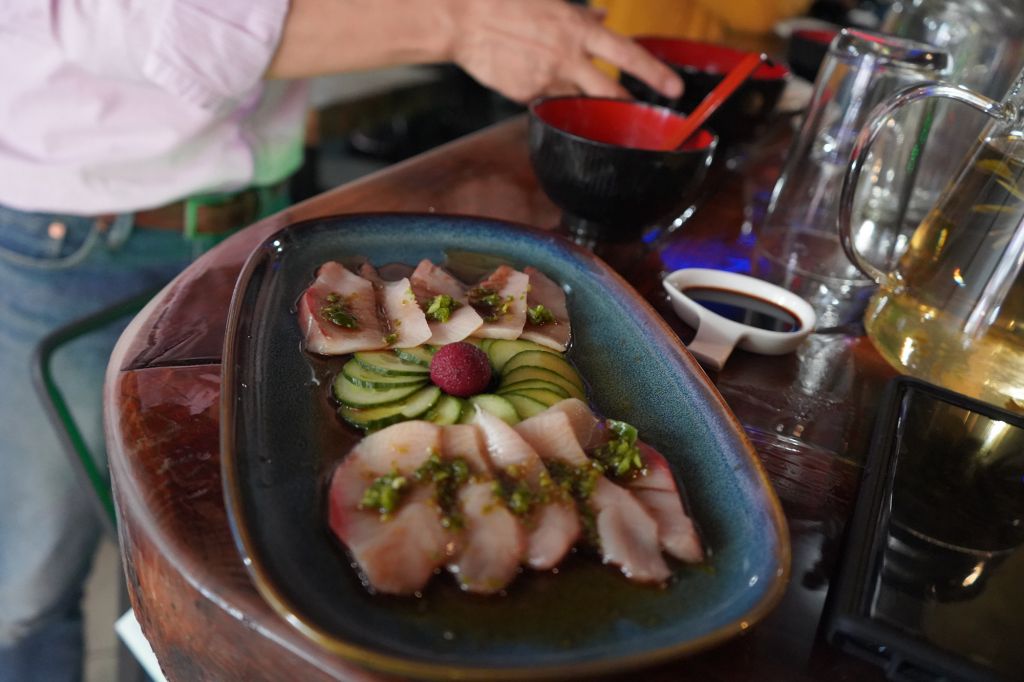 We're pretty sure it's going to be another local favorite along with all the other popular eateries in Melrose.
Minato's grand opening is today, May 15th and will open 6 days a week from Wednesday through Monday from 4PM – 11PM and is located at 407 E 161st Street at Melrose Avenue. They plan on opening 7 days a week in the near future.