After delays due to the COVID-19 pandemic, the Bronx Bus Redesign was finally implemented last summer, and now, after half a year of studying the changes in real-time, the Metropolitan Transportation Authority (MTA) has announced that the changes to bus routes have been a success.
Once home to one of the slowest bus speeds in New York City, the system is now boasting faster speeds and, according to the MTA, outperforming the other boroughs.
A report issued last week by the MTA indicates that the newly redesigned bus network in The Bronx that went into effect last summer and saw the modification of thirteen routes, the addition of two new routes, and greater frequency along eight major corridors, showed an increase of 4% across overall bus service in the borough and outperforming the rest of the city by 7%.
Some of the most notable highlights from the report are:
Bx36 customers traveling between Parkchester and Manhattan save over 10 minutes in each direction and up to 15 minutes during rush hours
Bx40/Bx42 customers traveling along E 180 St are saving1 1-12% (3 minutes) of their travel time in each direction along E 180 St.
With the Bx11 rerouted to E L Grant Hwy, customers are saving 60-70% (5-7 minutes) of their travel time between Mt. Eden and Manhattan
"The data and feedback collected over six months demonstrates that the new network is delivering on shorter wait times, faster and more reliable trips," said NYC Transit Senior Vice President of Buses Frank Annicaro. "The Bronx had one of the slowest bus speeds in the city and is now outperforming citywide trends in Customer Journey Time Performance, which measures the percentage of trips that are completed within 5 minutes of the scheduled time. This is a successful step in delivering better quality bus service."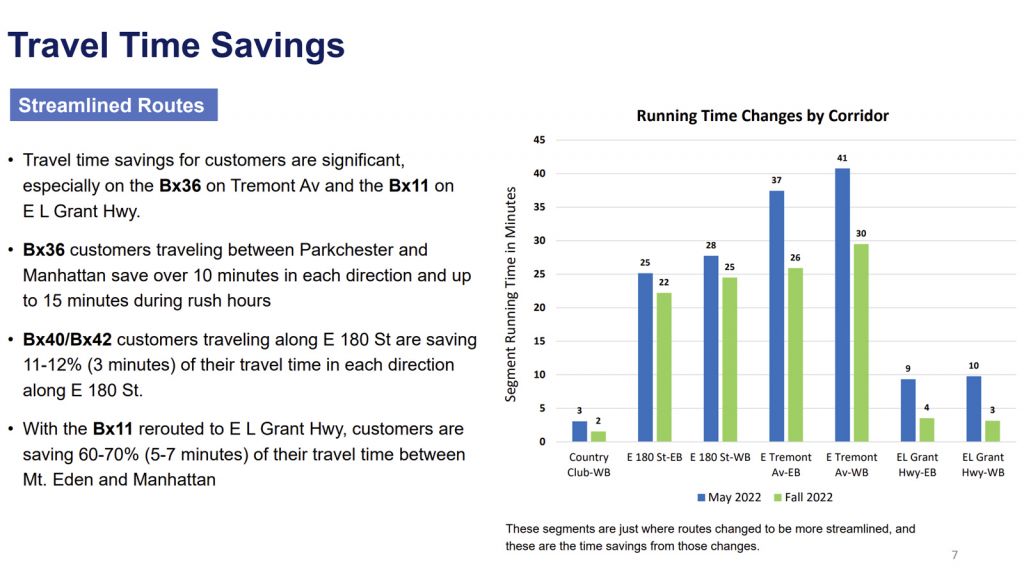 In a press release issued by the MTA on the study, Bronx Borough President, Vanessa L. Gibson said, "With a large segment of our population living in transportation deserts, which can increase their commute time by as much as an hour, we saw travel time along several routes decrease by as much as 40%. This is a significant win for our borough and the thousands of Bronx riders that rely on our buses to get to their destination. I want to thank the MTA, transit advocates, community boards, and everyone else involved in this initiative for their commitment to transit equity."
"Most of my Bronx constituents rely on an effective bus service daily," added Assemblymember Kenny Burgos. 
Meanwhile, State Senator Nathalia Fernandez, while rejoicing in the news, reminded everyone that the redesign did negatively impact seniors in places where bus stops were relocated or simply removed entirely.
Fernandez said, "The success of this program goes to show what is possible when investments are made in the Bronx! Ridership is up and Bronx bus routes are now outperforming citywide trends in speed and reliability. However, as with any success, it is important not to rest on our laurels because there is still a lot of work to be done. Boroughwide and citywide increases are truly great, but we still have to make sure we are addressing the hyper-local issues, particularly those that are affecting our seniors and many others who have had their regular stops moved and are now burdened with longer and more strenuous commutes. In the greatest city in the world, none of our communities should be left behind for the success of our neighbors."
The MTA states that they will continue to monitor bus service and customer feedback within The Bronx and make adjustments if necessary.
Now let's hold them to that promise.