On Tuesday morning, at the 161st Street and River Avenue Station on the 4, B, and D line in The Bronx, Bronxite Sasha Salazar became the 1 billionth subway rider for 2022.
Salazar said of the historic moment, "Every New Yorker uses the subway every day and I know that we appreciate the MTA, all the workers that work for the MTA especially."
The last time the Metropolitan Transit Authority registered over 1 billion subway riders in a calendar year was right before the pandemic in 2019 when 1,697,787,002 straphangers braved the country's largest subway system.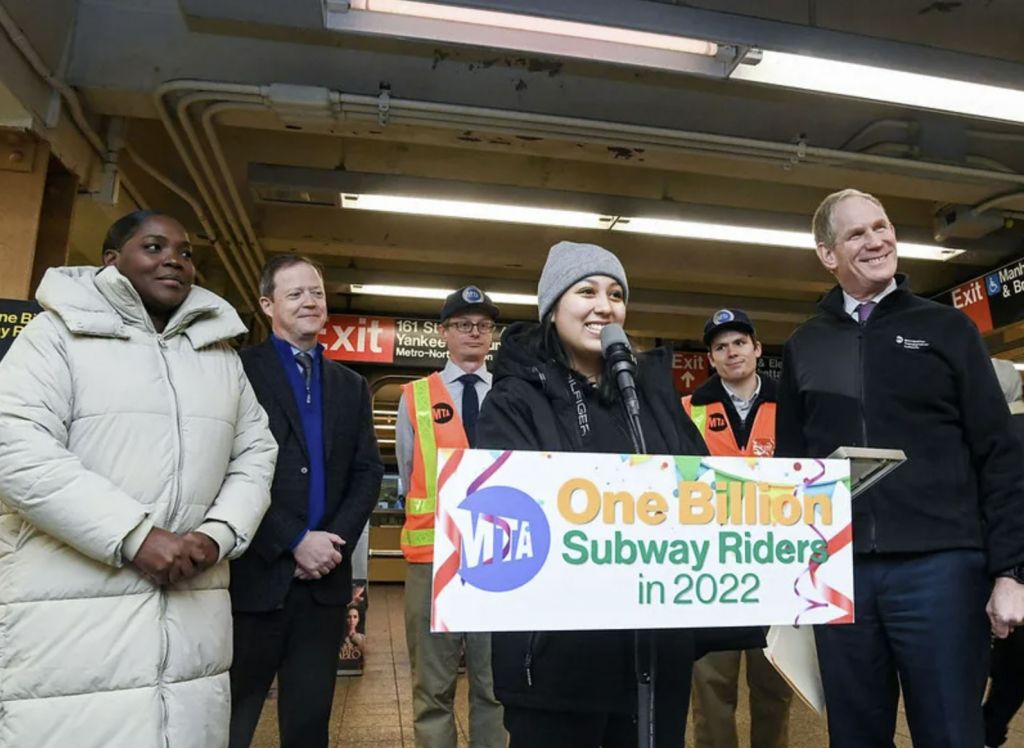 But in 2020 with New York City under the grips of the COVID-19 pandemic and the ensuing lockdowns with the majority of the workforce working from home, ridership plummeted to just 639,541,029 rides.
And the following year in 2021, subway ridership numbers were not much better with only a modest increase to 759,976,721 rides.
While yesterday's milestone was momentous and indicates a somewhat return to normalcy in a COVID-19 world, it's still a far cry from a full recovery as daily subway ridership continues to average about 60 percent.
Workers are returning back to their offices in Manhattan but with hybrid working schedules now more the norm than not, it's still a long way until we get to those pre-pandemic levels if ever.
Speaking of milestones, another major milestone reached this year is the number of OMNY taps, the replacement to the metrocard, that were made this year which reached 425 million across the system.
Metrocards will be phased out by 2024 and the OMNY fare-payment tap system will be the only way to be able to access NYC's buses and subways.
MTA Chair and CEO Janno Lieber said, "In 2022, customers have voted with their MetroCard swipes and OMNY taps, and hundreds of millions have returned to the subway. Hitting this milestone, one billion subway riders in 2022, demonstrates again how essential mass transit is to New York City's economy and continued recovery from the pandemic."
Now if only the MTA could get its act together and clean up the subway system and make it safer for everyone to ride. Despite claims of crime dropping across NYC, including the subway system, commuters still feel a bit leery from riding the subways.