As October quickly comes to a close, so do your chances to catch Kusama's works at the New York Botanical Garden here in The Bronx.
The exhibition of one of the world's most popular artists called Kusama: Cosmic Nature has been on display at the storied garden since the beginning of April and will end on Sunday, October 31st so you have less than two weeks to get there if you haven't seen it or if you want to experience the magic again.
What's fascinating about the exhibition is that several of the works are being displayed for the first time ever right here in The Bronx at the garden and many have never been publicly displayed while others are being shown in the United States for the very first time.
Central to a lot of her works are polka dots and pumpkins and many times both collide and can be seen throughout the garden. The 92-year-old artist has had a lifelong love for pumpkins and was once quoted as saying, "It seems pumpkins do not inspire much respect. But I was enchanted by their charming and winsome form. What appealed to me most was the pumpkin's generous unpretentiousness."
And as with all exhibitions at NYBG, the artist's love of nature is reflected throughout the garden, including the Enid A. Haupt Conservatory, with displays inspired by her homeland of Japan.
These can be best experienced at the landmarked Enid A. Haupt Conservatory in the ever-changing kiku, or chrysanthemum displays that change as the seasons go by. It's also here at the conservatory where you can see Kusama's painted steel flowers, her Starry Pumpkin, as well as the Dancing Pumpkin which is the largest of the works on display at the exhibition.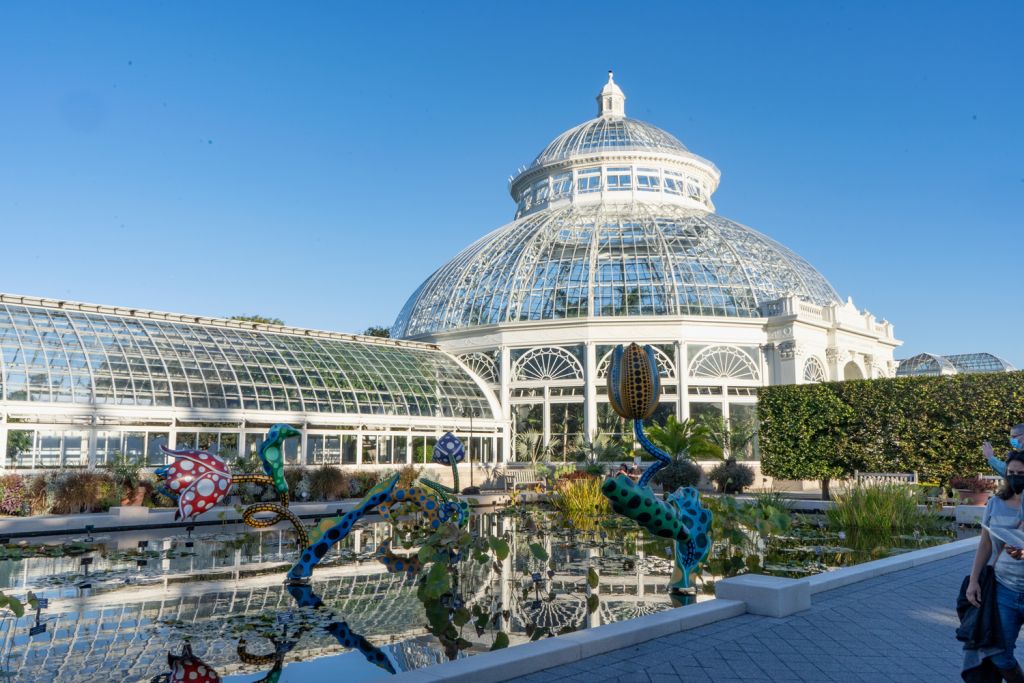 A trip to a Kusama exhibition is not complete without a visit to the Infinity Mirrored Room where you are immersed in her vision of infinite polka dots which the artist says makes her feel connected to the universe and everything. Time allotted inside the infinity room is short but it's enough to take your breath away and makes you feel like you're floating in space.
Kusama lived in New York City for 15 years between 1958 and 1973 and you can get a glimpse into her life and works at the Ross Gallery.
Kids are also able to immerse themselves in Kusama's love of pumpkins at Everett Children's Adventure Garden filled with pumpkin scarecrows as well as a sorting station with pumpkins for children to match up different types of the popular gourd.
As always, the New York Botanical Garden has outdone itself in bringing art and nature together and showing how both intersect wonderfully in Kusama: Cosmic Nature.
You have until Sunday, October 31st to capture the show before it's gone so make sure you grab your tickets now!