September 1st, 2021 will go down as an unfortunate, historic weather event in The Bronx, New York City, and the region.
Remnants of Hurricane Ida drenched the area in torrential rains which activated the first-ever flood warning for New York City and dumped 3.15 inches of rain in Central Park in just one hour last night.
Across The Bronx and the city, subway stations flooded causing a halt of the system, roadways flooded stranding cars and passengers, with the Bronx River Parkway turning into an actual river as the river itself overflowed its banks.
At The Hub in Melrose, a roof collapsed at a vacant building that once housed Glory Shoe store at Third Avenue and 153rd Street. Firefighters were at the scene making sure no one was inside the building and pedestrians steered clear.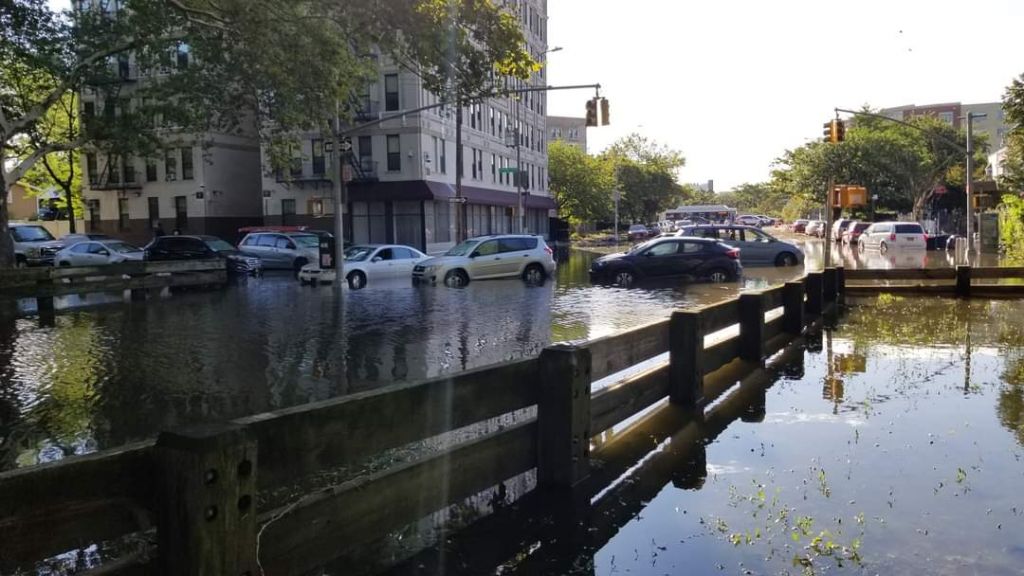 On Facebook, hundreds of people in the East Bronx reported major flooding in basements with pumps unable to keep up with the pace of the massive amounts of rain falling per hour.
Not even residents living above ground on higher floors were spared flooding in apartment buildings as rooftop drainage failed, spilling over the water down elevator shafts and stairwells.
And around 9PM, The Bronx was hit with a tornado warning as conditions for such an event were just right. Luckily, the borough was spared that.
Sounds apocalyptic? That's because in many ways it's just a look at what to expect in the near future and no longer the distant future as climate change continues to take hold of our planet.
How can we deny that this is happening when in less than two weeks, New York City shattered the record for most rainfall amounts in an hour?
On August 21st when Hurricane Henri arrived in the New York City region, 1.94 inches of rain fell in just one hour making it the most ever recorded in one hour since records began in the 1800s.
Last night, as the remnants of Ida slammed New York City, 3.15 inches of rain fell in Central Park in just one hour obliterating the days-old record.
In total, 7.9 inches of rain fell in The Bronx according to data from ConEd and University of Albany's weather station in the borough making it second only to Staten Island which saw 8.4 inches.
These types of events are supposed to be once-in-a-lifetime but here we are with two such events within 11 days. And lest not we forget Superstorm Sandy happened almost 9 years ago.
As of this afternoon, the death toll has risen to 15 across the metro area.
Below are just a few scenes of the chaos from last night's historic flooding and the aftermath this morning.
#BREAKING: Severe flooding throughout The #Bronx… this is 95 at Bx River Pkwy. #abc7ny #ida pic.twitter.com/tDXX1DkSdt

— Josh Einiger (@JoshEiniger7) September 2, 2021
Our infrastructure is not ready for climate change, Bronx River Parkway edition pic.twitter.com/4vhhY302Mb

— Brian Kahn (@blkahn) September 2, 2021
my bronx basement apartment flooded. pic.twitter.com/ImE0Ya4bdx

— fran thee evangelist ✨ (@fgarlands) September 2, 2021
Tenants in NYC and especially the Bronx are devastated by abhorrent infrastructure. We need awareness! @ABC7NY @news12bx pic.twitter.com/GXoxbCLjSW

— 🐥 (@waveridderr) September 2, 2021
Bronx River at the parkway pic.twitter.com/ykekWLLONr

— Luke (he/him) (@donateyourpaint) September 2, 2021
Flood at Bronx River Forest disrupts the commute for moped rider pic.twitter.com/dc0LaWspjN

— Luke (he/him) (@donateyourpaint) September 2, 2021
#Repost from @lovingthebronx River Park – Lots of flooding and damage in The Bronx from hurricane Ida. Hoping everyone is safe 🙏🏽 pic.twitter.com/1Gx6Hyc7TB

— The Bronx Brand (@TheBronxBrand) September 2, 2021
The flood on the Bronx River Parkway is absolutely insane #nyc pic.twitter.com/dBDoiVySTT

— Josue Mendez (@yeswayjosue) September 2, 2021
As a state of emergency is declared in New York City and New Jersey, this guy is another level of chill!#Ida #Hurricane #ViralVideo #Manhattan #Flash Flood Emergency #flood #Bronx #Brooklyn #nycwx #NJwx #TORNADOEMERGENCY #climate pic.twitter.com/4HvtUPKQrn

— pragiya (@ucatchpragiya) September 2, 2021