HUNTS POINT—Urban Health Plan and The Point Community Development Corporation have joined forces together with Council Member Rafael Salamanca Jr to bring greater access to COVID-19 vaccines in one of the hardest-hit areas in The Bronx.
Vaccinations began this past Monday at The Point and are being administered by Urban Health Plan health care providers.
Previously, an appointment was required but in order to make it more readily accessible and easier for residents to get inoculated you can now simply walk into one of the two facilities.
Vaccinations are being adminsited at The Point's location on Mondays, Tuesdays, and Wednesdays between the hours of 9am and 3pm and over at The Point CDC located at 940 Garrison Avenue (entrance on Manida Street).
Eligible residents can still pre-register at Urban Health Plan's Project HOPE location at 854 Hunts Point Avenue if they'd like to and someone from Project HOPE can walk you over to The Point.
You can also text VACCINES or VACUNAS (Spanish speakers) to (833)-240-2830 to register ahead of time.
New Yorkers 18 of age and older are eligible as are people without health insurance. Please note, that even though New York State residents 16 and over are now eligible, only the Pfizer vaccine can be administered to those 16 or 17 years of age.
The vaccine site at The Point will be in operation from now until June 2nd so it's important to help spread the word to your friends, family, and neighbors to help stop the spread of the coronavirus throughout our communities which has already left a devastating toll.
Many Bronx residents are more susceptible to more severe and life-threatening symptoms of COVID-19 as people suffering from comorbidities are at greater risk for such events.
Particularly vulnerable are individuals suffering from asthma, diabetes, cardiovascular disease, obesity, and compromised immune systems.
Unfortunately The Bronx has the highest rates of these aforementioned conditions which is one of several reasons it led to our borough to become not just the epicenter of the coronavirus pandemic but also have the highest rates of death from the disease.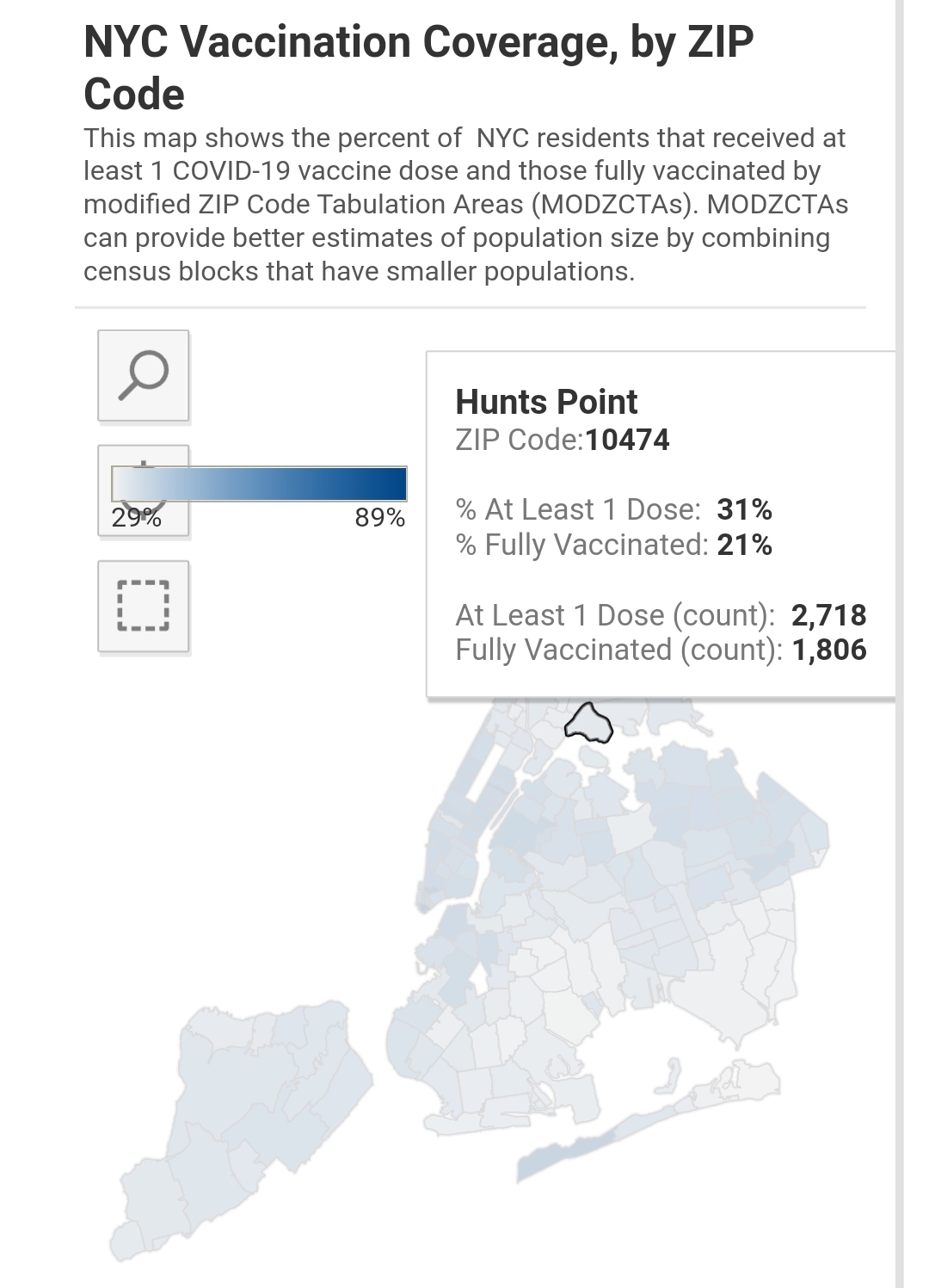 Despite the devastation the pandemic has left on our borough with many Bronxites witnessing their loved ones dying, there still remains a high hesitancy for the vaccine.
Currently, the 10474 zip code covering Hunts Point has the lowest rate in The Bronx of residents who have received either 1 dose or are fully vaccinated. As of yesterday, only 31% of eligible residents have received one shot and only 21% are fully vaccinated compared to The Bronx's rate of 40 and 29% respectively.
This is a stark difference from 10471 covering Riverdale and Fieldston where 62% of residents have received one shot with 50% fully vaccinated.
The opening of the site at The Point in partnership with Urban Health Plan can hopefully close the gap so that we can move forward together as a borough and city and get on the road to recovery for all.