THROGGS NECK—The Bronx is scheduled to get a second ferry stop this year which will extend the Soundview NYC Ferry route into Throggs Neck at Ferry Point Park.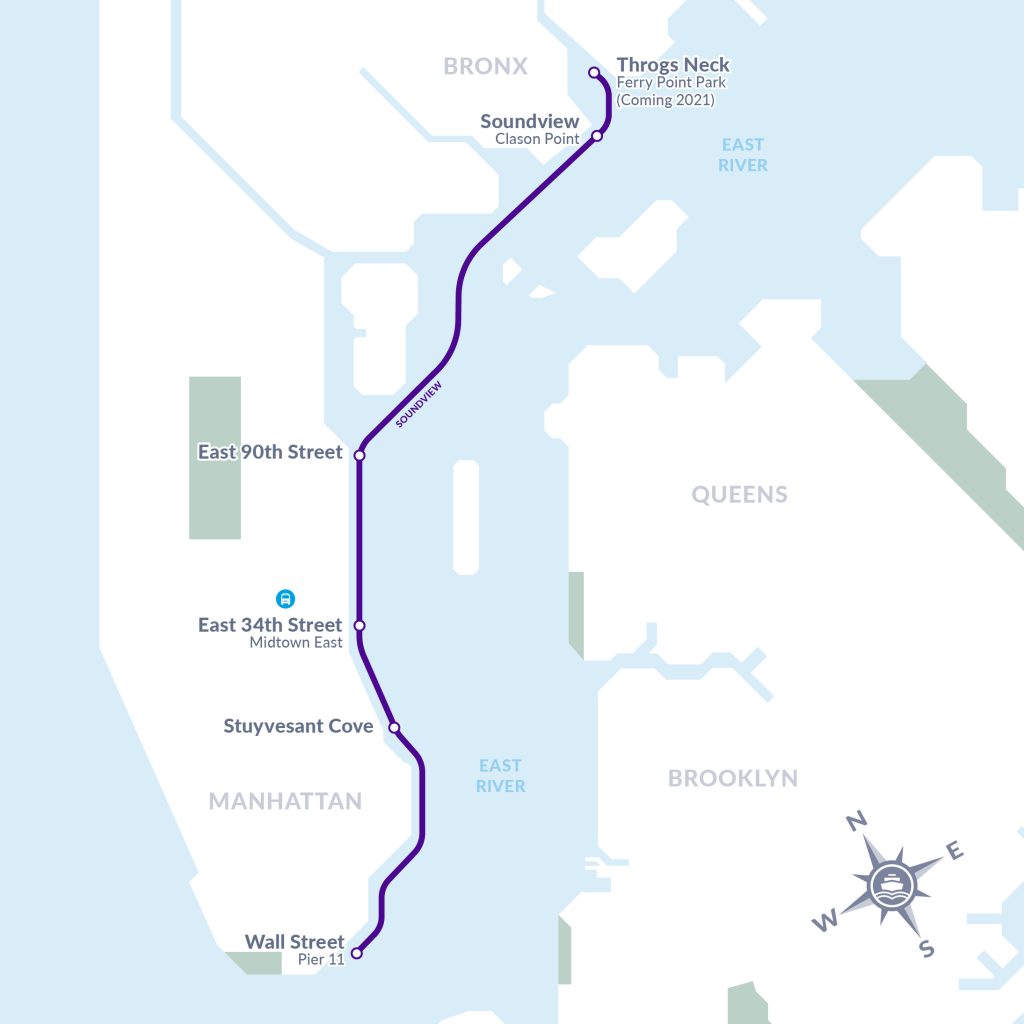 With the successful launch of the Soundview Ferry at Clason Point, the New York City Economic Development Corporation announced in 2019 that the service would expand the route in 2021.
According to information told to Welcome2TheBronx by the Office of Public affairs at the NYCEDC, the addition is still on target for the end of the year, however at this time they cannot provide when beyond that.
The agency also stated that despite the fact that construction hasn't begun on the new dock yet, they are still working to get it done by year's end.
Up until the pandemic, ridership along the Soundview ferry route, which stops along the East side of Manhattan along the East River at 90th Street, 34th Street, Stuyvesant Cove (at 20th Street, and Wall Street at Pier 11, was exceeding expectations.
According to the EDC, the route was expected to carry 410,000 riders during the first year but in less than 12 months, it carried over 670,000 riders—63% more than expected.
Before the ferry service began, Soundview residents faced 90 minute commutes to midtown and downtown destinations for work but once service began, many began experiencing reductions of up to 1 hour for their commutes.
When the COVID-19 pandemic hit, ridership dropped to 70% of pre-pandemic lockdowns across the entire NYC Ferry system as employees began to work from home, however, in The Bronx, home to the largest population of essential workers, ridership remained at a strong 90% according to data provided to Welcome2TheBronx by the NYCEDC.
In the transit-starved East Bronx area that is still waiting for four new Metro North Stations, this is a much needed alternative form of transportation for area residents heading into Manhattan but another stop in the South Bronx, perhaps along Lincoln Avenue would help alleviate the 4,5, and 6 trains running along the Lexington Avenue line but for this system to truly be successful, we must demand direct access to Queens and Brooklyn from The Bronx and bypassing Manhattan entirely.
Marjorie Velazquez, who is running to represent the 13th District in the New York City Council told Welcome2TheBronx in a statement, "My community has suffered as a transportation desert in need of better options and accessibility."
The majority of economic growth has occurred in the outer boroughs in recent years and many Bronxites travel to Queens and Brooklyn but cannot take a direct route without getting on a bus and making several switches along the way.
A direct route into Queens will go a long way.
"This expansion is a great first step but far more needs to be done to really fix the issue including more subway access, select and express bus service." added Velazquez.