The annual Association for Neighborhood and Housing Development report on affordable housing threat is out and the situation for The Bronx continues to remain dire.
Data for this year's report are grim: The Bronx has seven of the top ten community boards in New York City that are facing the most threats to their affordable housing as measured by a series of metrics with boards 1, 2, 3, 4, 5, 7, and 12 facing the crisis.
From serious housing violations to eviction rates and number of units per community board set to expire within the next five years, The Bronx leads in virtually every single category.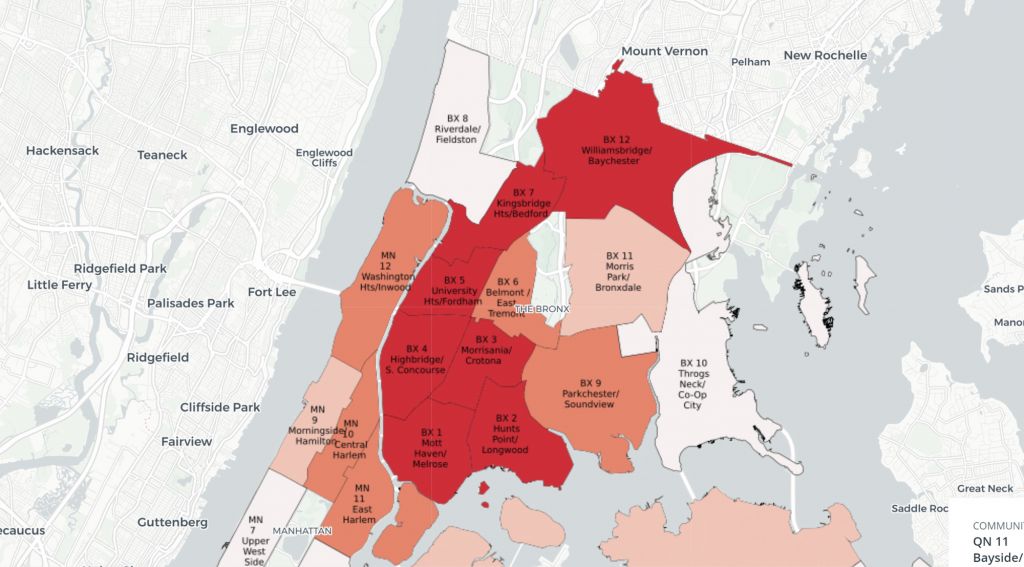 According to the data, The Bronx leads New York City with the highest rates of eviction, the most rent burdened residents, tenants making less than the required Area Median Income to qualify for affordable housing, and most residents living in areas with increasing housing prices than any other borough in the city.
In all but one of the aformentioned categories, The Bronx led with seven out of the top ten community boards in New York City.
The report also notes that seven of the top ten community boards with the most service workers are located within The Bronx.
Top 10 Neighborhoods with Greatest Risk to Affordable Housing:
| | | |
| --- | --- | --- |
| Rank | Community Board/Borough | Neighborhood |
| 1 | Bronx CB4 | Highbridge, South Concourse, Mount Eden |
| 2 | Bronx CB7 | Kingsbridge Heights, Bedford Park, Norwood, Fordham, University Heights |
| 3 | Bronx CB5 | Morris Heights, Mount Hope, Fordham, University Heights |
| 4 | Brooklyn CB5 | E New York, Starrett City |
| 5 | Bronx CB12 | Edenwald, Wakefield, Williamsbridge, Woodlawn, Eastchester, Baychester, Olinville |
| 6 | Bronx CB1 | Melrose, Mott Haven, Port Morris |
| 7 | Bronx CB3 | Morrisania, Bathgate, Melrose, Claremont, Crotona Park East |
| 8 | Brooklyn CB17 | East Flatbush |
| 9 | Bronx CB2 | Longwood, Hunts Point |
| 10 | Brooklyn CB16 | Brownsville |
This isn't something that's new. Each year ANHD releases its report, has shown that The Bronx is the borough with the greatest threat to affordable housing despite the massive amounts of units constructed here.
Affordable housing isn't permanent and can expire after a set number of years. Should the building owner choose to opt out of the program upon expiration, the units can eventually go to market rate unless the lot was rezoned under the Mandatory Inclusionary Housing zoning which requires a percentage of units to remain permanently affordable.
The report also illustrates something activists have been saying all along: Residents who need affordable housing the most, do not qualify because of the Area Median Income not truly reflecting the local AMI where the units are contructed.
Oftentimes, the income requirements are twice more than the actual local median income.
These are decades old problems which activists have continuously warned and raised the alarm only to be met with resistance or indifference with local elected officials.
This is yet another reason why your vote matters at the ballot box.
You can read the full report here.