Everywhere you turn and look in The Bronx, you're bound to stumble upon a bit of history.
Some of it is pretty common knowledge but other bits of our past may surprise you.
Many people wouldn't think that The Bronx would have any role in America's independence but not only does our borough indeed play one but it is much bigger than you think!
Let's start with our nation's first president, George Washington.
On October 12, 1776, the British landed in Throgg's Neck with 4,000 troops who were later met with the resistance of 350 Americans who were able to hold them off at Pell's Point in Pelham Bay Park. This allowed Washington and his troops to safely reach White Plains. Think about that. 350 Americans against 4,000 British troops!
But it wasn't until 1783 that George Washington left Van Cortlandt House in The Bronx with his troops in what is considered the final act of the American Revolution which was the recapturing of New York City. Known as 'Evacuation Day', November 25th, 1783 was that historic day when Washington triumphantly left The Bronx, crossed the Harlem River into Manhattan and headed down the island to New York as the last bit of British Authority fled the shores of America. It should also be noted that sadly, the British army slaughtered Native Americans fighting for American Independence, The Stockbridge Indians in present day Van Cortlandt Park where they are buried and memorialized in Indian Field.
Here are some other historical facts on our borough's role in the founding of America: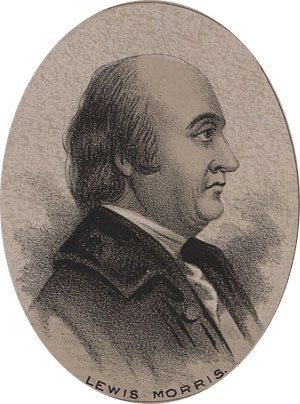 1: Morrisania and Morris Avenue get their names from the Morris family of the Bronx of which Lewis Morris was one of the signers of the Declaration of Independence of our country. He is buried in the family vault at St Ann's Church on St. Ann's Avenue and E 142nd Street in Mott Haven just south of St. Mary's Park.
2: Lewis Morris half-brother, Gouverneur Morris who not only was a signer of the Constitution but is also the author of large sections of this treasured document and is considered the 'Penman of the Constitution' and the author of its preamble:
"We the People of the United States, in Order to form a more perfect Union, establish Justice, insure domestic Tranquility, provide for the common defence, promote the general Welfare, and secure the Blessings of Liberty to ourselves and our Posterity, do ordain and establish this Constitution for the United States of America."
Gouverneur Morris also was, "Among the most vocal participants of the 1787 Constitutional Convention, Morris argued for granting Congress veto powers over state laws, direct election of the president and proportional representation in Congress based on taxation."
3: The iron dome of the United States Capitol in Washington DC was made right here in the Bronx.
4: Right across from the Jerome Park Reservoir we have Old Fort Four Park which according to NYC Park's Department:
"As Commander-in-Chief of the Continental Army, General George Washington ordered the construction of outer defenses throughout the Kingsbridge area. Fort Four was built under the direction of Colonel Rufus Putnam in 1777 to protect the American army and to safeguard the line of the Harlem River.

The largest of all fortifications in the neighborhood, Fort Four was admirably situated, commanding a view for miles in all directions. In the fall of 1779, the fort was destroyed by the British forces led by Sir Henry Clinton."
5: Here's another one submitted by Bronxite Sally Dunford:  "Also according to NYC Parks: "Gun Hill Meadow is named for a January 25, 1777 Revolutionary War battle that took place near this site. Gun Hill Road, then known as Kingsbridge Road, was an important east-west thoroughfare, which the British and the Americans fought fiercely to control.
During the battle, the British were chasing the Patriots east towards the river. While in retreat, a group of soldiers, led by Captain Bryant of the artillery, dragged a cannon atop a nearby hill and fired upon the charging Brits.
That strategic position, which then became known as "Gun Hill," forced the Brits to retreat west to Kingsbridge, allowing the Patriots to escape."
6: And Bronxite Nick Leshi reminded us about Glover's Rock in Pelham Bay Park and the Battle of Pell's Point:
According to New York City Parks Department:
Before the American Revolution, the Siwanoy Native Americans used the rock as a lookout point along their trading route.

On June 21, 1775, the British ordered Glover and his Marblehead Militia to Cambridge, but the next day he and his regiment defected to the Continental Army. General George Washington (1732-1799) organized the Continental Army on July 3, 1775, and on January 1, 1776, the Marblehead regiment became the 14th Continental Regiment, led by Colonel Glover.

Colonel Glover soon commanded a brigade, and on September 13, 1776, he safeguarded the evacuation of New York City through Harlem, across the King's Bridge, and into the Bronx and White Plains.

General Howe and a British fleet had landed on Kip's Bay, and the British Army was threatening General Washington's position in White Plains. Glover spied the fleet off Pell's Point, the site of present-day Rodman's Neck.

There were four regiments in Glover's brigade, one being his own Marblehead regiment, the other three under the command of Colonel Joseph Read (b. 1731), Colonel William Shepard (1737-1817), and Colonel Loammi Baldwin (1745-1807). On October 18, 1776, Colonel Glover separated each regiment, spreading them along Split Rock Road behind the stone walls that marked property lines. He then led 40 men in a direct attack on the British. After an exchange of fire, two Americans were killed and Glover retreated north along the path with the British in pursuit.

Soon, the British forces hit the other three Continental Regiments, and, surrounded, they retreated back to Pell's Point. Only 12 Americans were killed, yet between 800 to 1,000 British soldiers were killed or wounded in the battle. Colonel Glover thus enabled General Washington to position and hold his forces in White Plains before moving south. Glover's "Marbleheaders," with their experience as sailors, were also essential in Washington's famous crossing of the Delaware River on December 25, 1776, for the Battle of Trenton. Glover was promoted to Brigadier General on February 23, 1777.

While General Glover was stationed in Rhode Island, his wife died on November 13, 1778. After the war, Glover returned to Massachusetts and was elected to the state legislature in 1788 and 1789. He died in Marblehead on January 30, 1797.
Here's one last bit and a fun fact: Lewis Morris tried to convince the newly found nation to make Morrisania the Capital of The United States in 1790…but we know how that went.
While our nation celebrates its independence on July 4th, let us never forget that it wasn't freedom for all. Slavery continued until the end of the Civil War in 1865 and it wasn't until June 19th of that year, now known as Juneteenth, when the news of their freedom reached Texas and all were finally free.
Fast forward to 2020 and Blacks, Indigenous, and People of Color in this country are still fighting for true equality. This isn't really up for debate. We still have a long way to go until everyone is truly free and equal in this nation.
Check out MORE Bronx Facts here!
Dear reader: Now more than ever, it is important to support local journalism, especially as told by a Bronx-born and raised journalist telling our stories. If you found this or any of our stories informative and enjoyed our photography throughout the past years, kindly consider donating to support local Bronx journalism for decades to come.
Dear reader: Now more than ever, it is important to support local journalism, especially as told by a Bronx-born and raised journalist telling our stories. If you found this or any of our stories informative and enjoyed our photography throughout the past years, kindly consider donating to support local Bronx journalism for decades to come.