On Thursday evening, Bronxites Rafael Peña and Alexandra Haridopoplos were walking into Van Cortlandt Park when they stumbled upon a terrifying scene and symbol of hate.
Three nooses were left hanging from trees inside the park's entrance near 242nd Street on the West side of the park.
According to Gothamist, a third witness reported the incident to the 50th Precinct but Peña and said they didn't seem to take the incident seriously nor did they even bother filing a police report. A spokesperson for the NYPD claimed it was a rope to hold a piñata in an area popular with locals for parties.
But coming to that conclusion without an actual investigation is disturbing given the fact that a Black Bronx man was found dead hanging from a tree in Fort Tryon Park in Manhattan.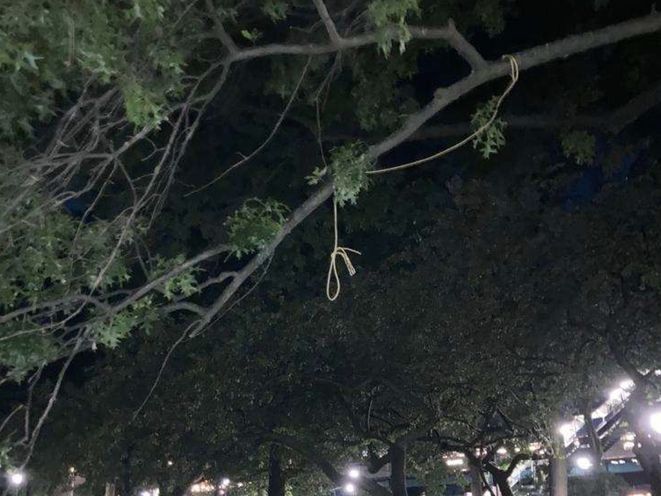 And he isn't the only one found dead hanging with a noose around his neck as several Black men across the country have also been found dead hanging from trees.
All have been ruled suicides so far but according to people who knew the victims, it doesn't add up. Demands are growing every day to fully investigate these incidents as hate crimes given the vile history of lynching Blacks in this country.
What's even more troubling is that earlier this month, in the same park, a backpack belonging to an ex-marine was found containing AR-15 assault rifle along with ammunition. The ex-marine, Nicholas Bingman of nearby Mount Vernon, was found to have troubling messages on his phone including one that said "kill all enemies."
But he was eventually released on a $300,000 bail.
This isn't surprising to anyone living in The Bronx especially those of us familiar with that area. Two years ago there were flyers put up at the edge of Van Cortlandt Park calling white supremacists to march through Woodlawn to defend their heritage and show of strength against what the flyer called an, "invasion of Black thugs into the neighborhood."
So given the racist history of the area, we're not gonna just sit back and accept the NYPD'S lazy response that this noose was from a party. We demand a full investigation connecting these dots because they are connected.
Please note: A previous version of this article stated that the nooses were found in the East side of the park on the Woodlawn side and has been since corrected to the west side of the park. Our original source article at Gothamist was incorrect.