A massive redevelopment plan is being floated around that would not only bring a world-class soccer stadium to The Bronx but also 3,000 units of housing, a school, community space, as well as office and retail space spread across 4 million square feet.
For the past year, Welcome2TheBronx has been hearing a lot of chatter among local South Bronx activists and community members that there was evidence of shady backroom discussions and perhaps even deals are being made to force a soccer stadium for the New York City Football Club into a neighborhood that has adamantly opposed it.
Six years ago it had been revealed that the Bloomberg administration had a non-binding agreement for a $350 million soccer stadium just south of Yankee Stadium without zero community input.
After much opposition, the deal seemed to have been killed only to resurface in various iterations and different locations since then.
Now The Outfield is reporting on new renderings and plans for the NYCFC soccer stadium at the original proposed site on E 153rd Street as well as conversations that are still ongoing and without zero community input.
The Outfield speculates that the emails they have obtained via public records requests that this potential stadium may be closer to reality than we think or have been led to believe.
They write:
"On October 30, 2019, the nonprofit Urban Land Institute held a Technical Assistance Panel to discuss Bronx community development needs. The panel operated under the assumption that a stadium would be built on the GAL site, and the ideas presented at the TAP meeting bore similarities to Maddd Equities' presentation, including an emphasis on affordable housing. Though the manager of the local Bronx community board, Paul Philps, noted at the meeting that no formal stadium proposal had crossed his desk, records show that the plan has continued to receive quiet attention from city government.
"In an email obtained by The Outfield dated July 1, 2019, Nate Gray from the NYC Economic Development Corporation talked soccer stadium with David Quart of VHB, a planning, design, transportation, land development, and environmental firm. After rattling off traffic considerations, programming and uses, and local community partnership opportunities, Gray added, "Once you have had a chance to digest with the team, we should talk about a follow up meeting at the appropriate time." Gray and Quart did not immediately respond to a request for comment on whether "the team" referred to NYCFC or the project team.
"Behind the scenes, though, NYCFC's partners have been meeting with city officials about specific details surrounding the development. Public filings show that the law firm Akerman LLP, which was listed as "Land Use Lead – ULURP" in Maddd Equities' stadium presentation, focused its most recent lobbying for Maddd on "South Bronx Master Plan – Block 2490, Lot 1 in the Bronx." Block 2490, Lot 1 is better known as 45 River Avenue, one of the underused parking garages at the heart of the stadium plan. "
The Plan Itself
As we mentioned, the proposed development as it appears in the slides obtained by The Outfield indicate that it would be spread across 4 million square feet where GAL Manufacturing currently sits on E 153rd Street directly north of the Bronx Terminal Market.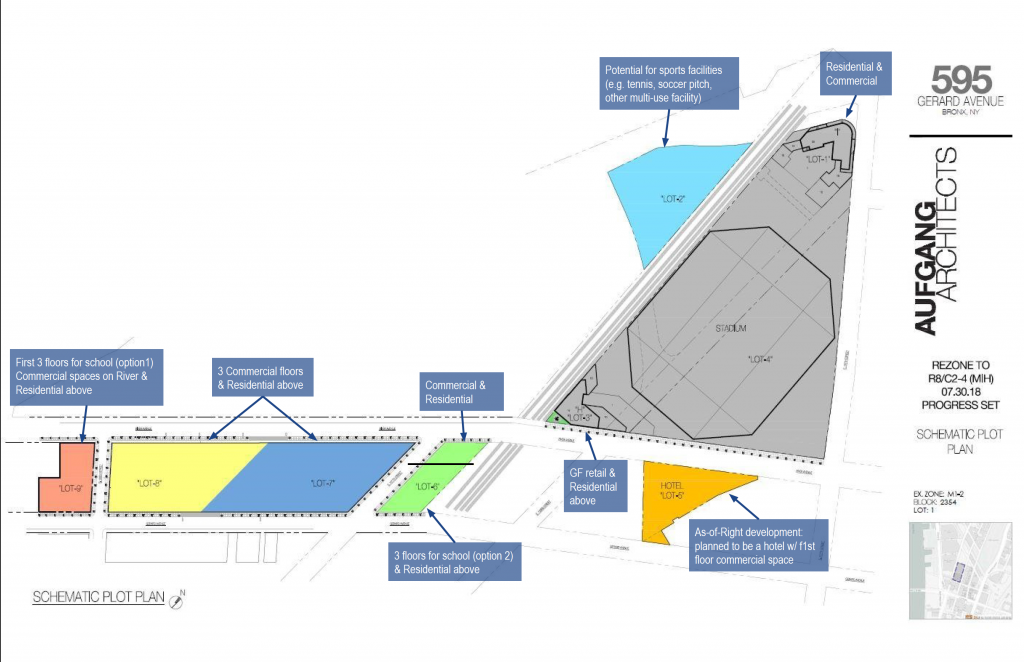 That stretch of East 153rd Street between River Avenue and the Major Deegan Expressway would be demapped and the parking Yankee Stadium parking lots would be demolished plopping the proposed soccer stadium right on that site and surrounded by open plazas, a hotel, and Macombs Dam Park directly north.
A corridor of new, residential housing would rise from 152nd Street down to E 149th Street between River and Gerard Avenues with approximately 3,000 units of affordable housing, a school, and office and retail on the lower levels of the residential buildings.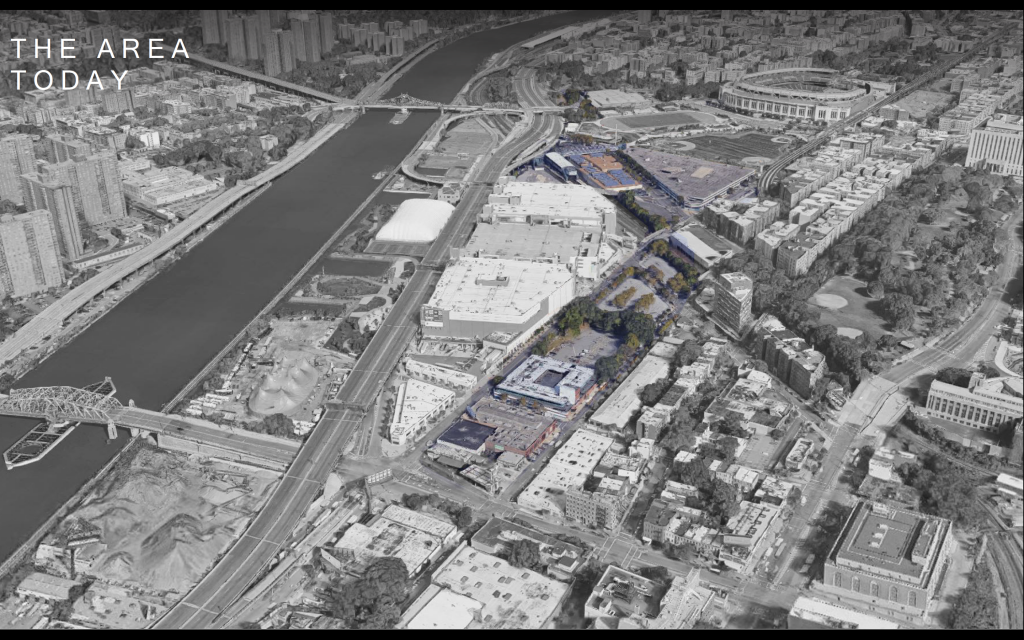 If this project actually moves forward, it would create a massive cultural and entertainment corridor between Yankee Stadium and E 149th Street.
The long delayed Bronx Children's Museum is slated to open soon (we hope) at Mill Pond Park and construction begins on Bronx Point next year which will house the country's first Hip Hop museum not to mention Pregones Puerto Rican Traveling Theater has been 2 blocks away from the proposed site for 40 years.
But do we really need another sports stadium?
Can the area handle the influx of traffic that would accompany yet another sports complex?
The 149th Street and Grand Concourse station on the 2/4/5 line is already bursting at the seems and that's without the thousands of additional residents that will be flooding the area once Bronx Point opens.
Traffic is abysmal from 138th Street to 153rd Street along Exterior Street and will only get worse if E 153rd Street is demapped and eliminating another access point to the Deegan.
What about the home owners just a couple of blocks away? They didn't purchase a home to live next to a stadium. They already live in the shadow of Yankee Stadium and have to deal with the traffic and parking woes that come along with that.
Finally, who's gonna pay for this? Are we, the tax payers, going to be asked to foot the bill and give a developer and New York City Football Club a sweetheart deal at the expense of our tax dollars?
It seems there are always tax breaks and money for big projects but when it comes to our communities that have to beg for what's rightfully ours, like new schools, better pay for our teachers, well funded arts and cultural centers and programming, after school programming and centers for our youth, funding to help with the out of control opioid epidemic gripping our community and actual solutions to combat poverty in The Bronx we are dead in the water and have to accept scraps.
We're not anti-development we're pro sensible development that has sufficient TRUE community input and places communities first and above profits.