94 brand new apartments are now available via New York City's affordable housing program lottery in Hunts Point with studios renting at $748/month, 1 bedroom units at $948/mo, and 2 bedroom units at $1,148/mo.
Located at 985 Bruckner Boulevard, the 94 units are part of a larger 215 unit development offering a mix of housing for extremely low and low income families as well as families or individuals with special needs and the formerly homeless.
Amenities include laundry room, community room with a commercial kitchen, computer lab, a library, green space for residents, on-site super, a fitness room and even a bike room (we're glad to see most new developments include that last one for bike storage).
The building is located half a block from the Hunts Point Station on the 6 line and 3 blocks to the 2 and 5 line at Simpson Street.
It will also be a block away from the new Metro North Station at Hunts Point coming in the next few years which will provide direct and one stop access to Penn Station as well as Westchester and Connecticut.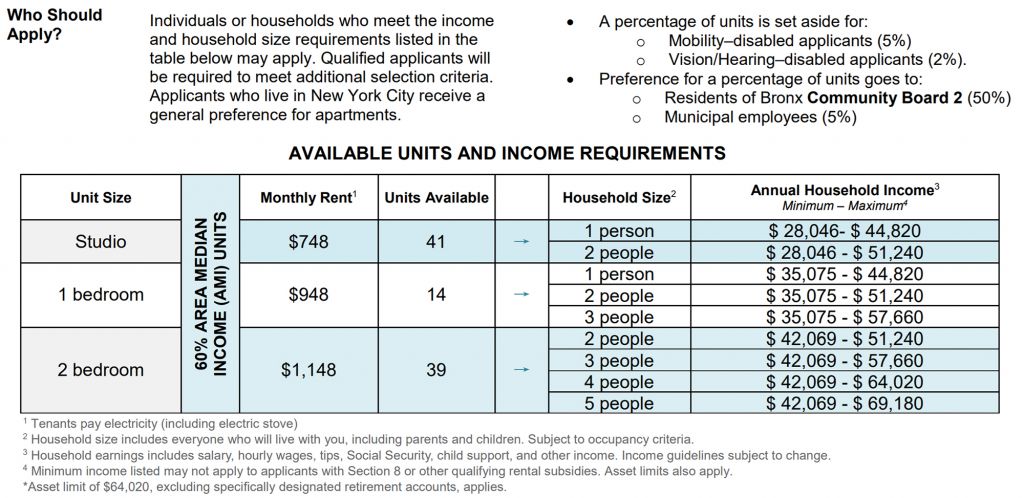 Plenty of shopping along the Southern Boulevard Business Improvement District corridor is available just around the corner with a mix of local small businesses (like Metro Optics) and national retailers alike.
Just a few blocks away you have a beautiful, recently rebuilt Lyons Square Playground or you can take stroll with the family along the Bronx River at Concrete Plant and Starlight Parks.
You have until December 31st, 2019 to apply and you can do so over at their website.
Please do NOT contact Welcome2TheBronx about this or any development as we are not a real estate agency nor are we affiliated with any of these developments in any capacity.
Good luck to those who apply!