Late Sunday night, the long-awaited monument to the late Puerto Rican humanitarian and baseball player, Roberto Clemente, was installed at Roberto Clemente Plaza at The Hub in the South Bronx.
The monument, called Para Roberto, was designed by Bronx born and raised artist Melissa Calderón who said that it was, "…dedicated to Clemente's 'would have
been' future and honors his remarkable life, his humanitarian legacy, his perseverance, and his dedication to working with kids to help realize their own dreams."
Not only is Para Roberto New York City's newest permanent monument but it is also the newest in The Bronx in decades and is also one of the first if not the first designed by a Latina.
Calderón further writes in her statement:
The sculpture features an empty 'Abuelo' chair- the type a grandfather might use in Puerto Rico, reminiscing and telling stories filled with history and wisdom which represents Clemente in his retirement, had he lived. I'm grateful for the City's support of this commission and thrilled to see it installed in the heart of the South Bronx where it can become a part of the neighborhood fabric and inspire future generations with Clemente's example."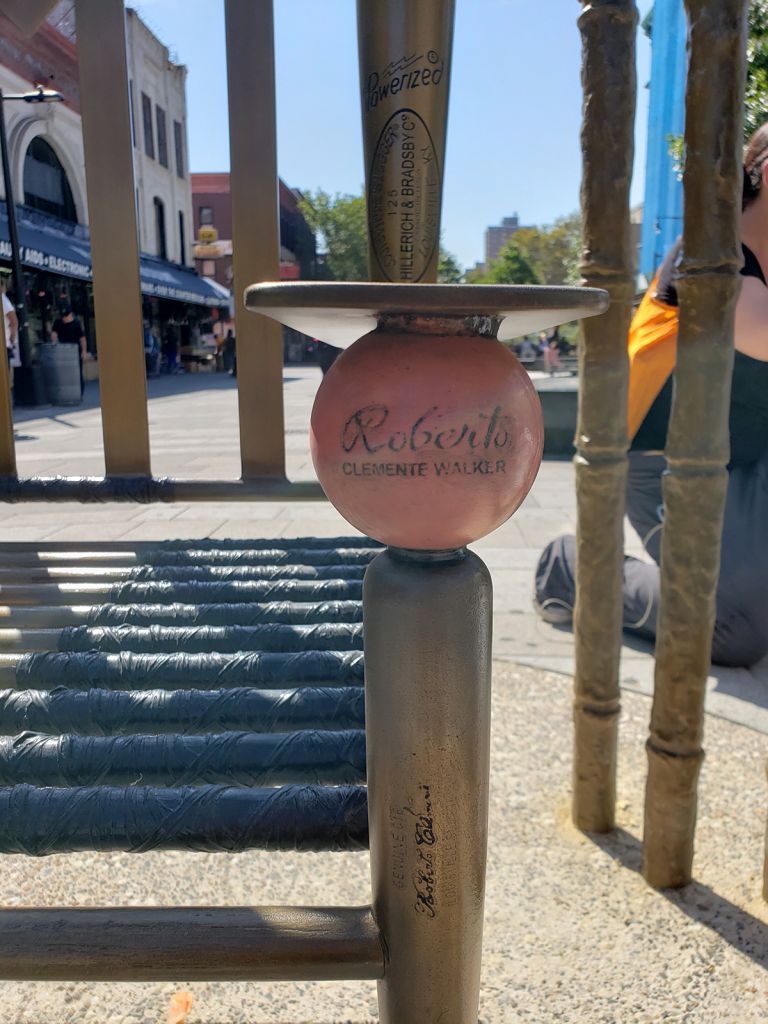 The sculpture is cast bronze with vibrant colors give the work a surreal feeling of being in Puerto Rico. An oversized chair made from bronzed stickball and baseball bats and balls sitting underneath a 12.5 foot tall canopy of sugarcane. The chair represents Roberto in his retirement, built upon his history, perseverance, and humanitarian spirit. 12 sugar cane stalks surround the chair. Quiet sententals, the sugarcane represent the hardships Roberto and his family faced working in the sugarcane fields, a reality shared throughout the colonial history of the Caribbean. But in this work, the sugarcane act as not only a numerical tribute to Clemente's golden glove wins (12), but also provides shade and respite for the patron sitting in his chair, reminding the viewer that our history makes us who we are and gives us the foundation to move forward and achieve success.
What makes this monument important for not just the people of The Bronx but for New York City is that it is dedicated to a person of color from a community that has been often underrepresented when it comes to monuments, statues and artistic tributes across the city.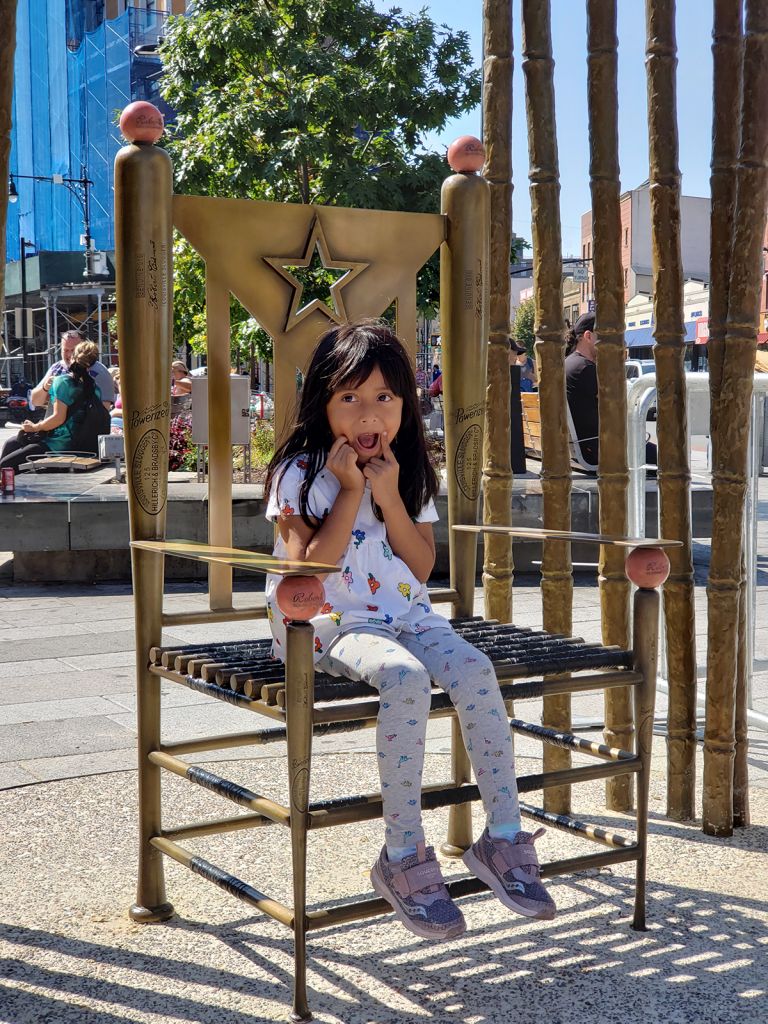 And its impact on the community was immediately apparent once it was fully unveiled this past Wednesday as local community residents began to interact with the monument by sitting in the chair and posing for photographs (by the way, you can follow the monument on Instagram at: @ParaRobertoBx).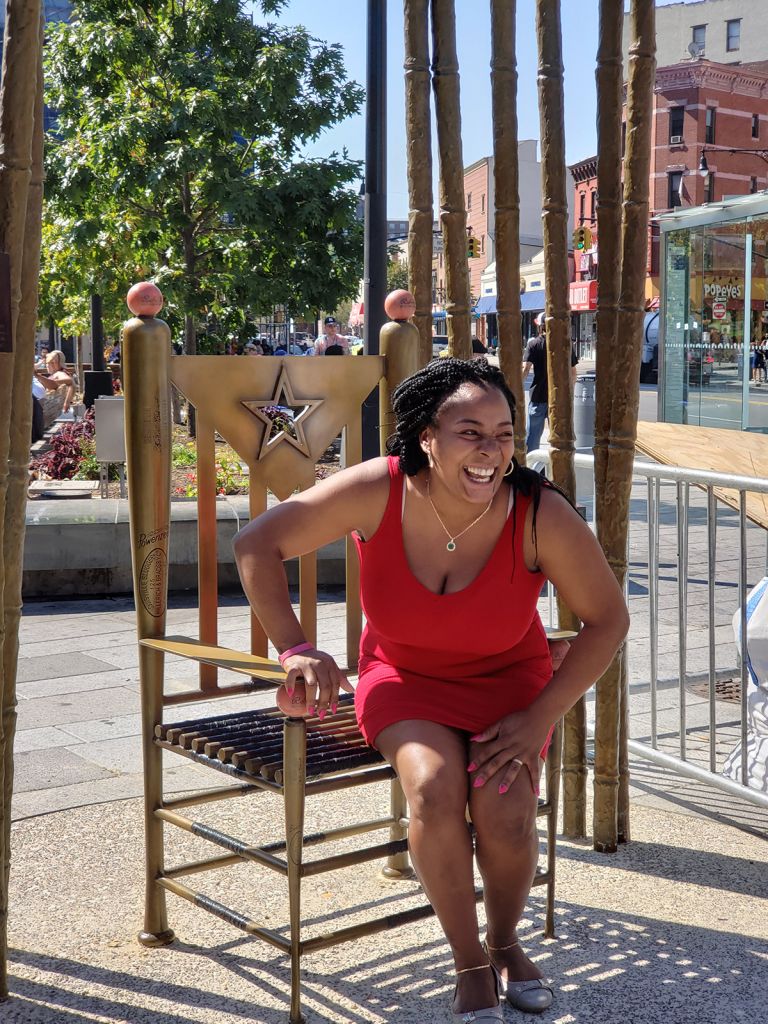 We are so excited to have this monument in The Bronx and it couldn't have come at a better moment in our borough's history especially as gentrification is taking a foothold in the South Bronx. It is important to send out the message that our communities will not be erased.
Para Roberto was commissioned by The City of New York Department of Design and Construction, Percent for Art, Department of Cultural Affairs, and Department of Transportation and is on permanent display at Roberto Clemente Plaza located at Third Avenue between 148th and 149th Streets.