All neighborhoods in the Bronx and across New York City deserve to have low crime rates and resident should live without fear that they will be a victim of a violent crime whether they live in an economically affluent area or a low-income neighborhood.
In order to accomplish that, NYPD Commissioner James O'Neill is directing the nation's largest police force to target six precincts in NYC where violent crimes are twice the rest of the city—all in gentrifying neighborhoods and all areas that either have been rezoned or are facing a rezoning.
The 40th precinct which covers Port Morris, Melrose, and Mott Haven, the 41st covering Hunts Point and Longwood, and the 42nd Precinct covering Melrose, Morrisania, and Claremont will be the focus of efforts by the NYPD utilizing a variety of programs and "crime-fighting" tactics to ensure these areas are just as safe as other parts of the city.
While this is a noble effort in theory, we have to ask why is every single precinct selected located in gentrifying neighborhoods and why now?
Our existing residents deserved and continue to deserve to be safe and not just because developers are now rolling in with big money and constructing luxury housing for a demographic that doesn't even exist in the country's poorest congressional district.
Other precincts in the city are 25th in East Harlem, the 73rd and 75th in Brooklyn covering Brownsville and East New York respectively. All these neighborhoods are experiencing gentrification and this doesn't go unnoticed by us and others.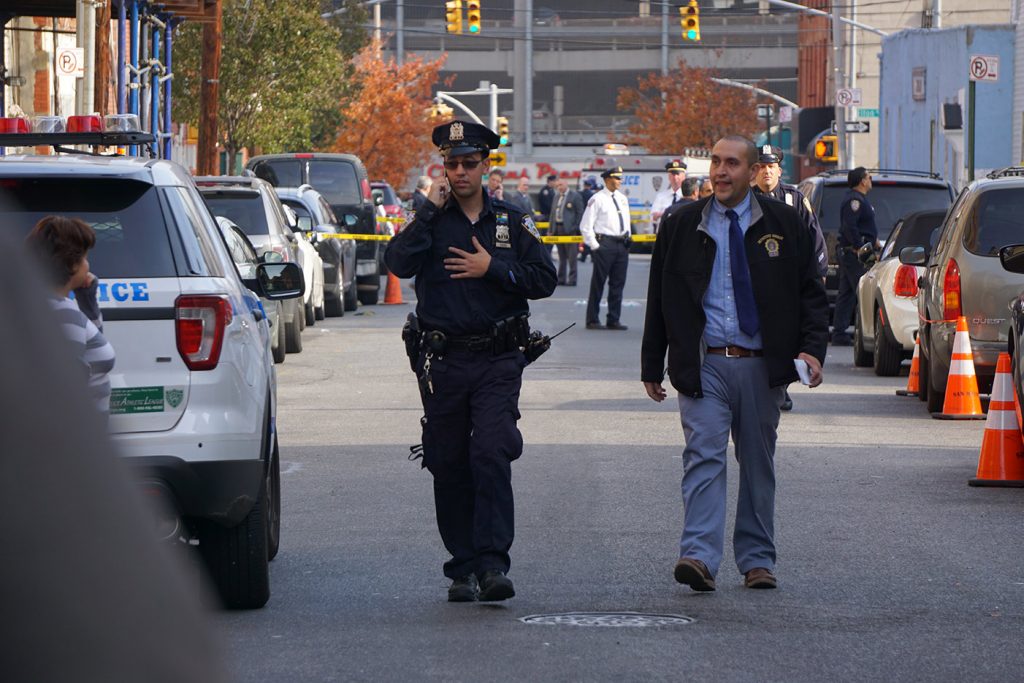 And this isn't "paranoia" speaking but this is a well-documented phenomenon in the never-ending saga of gentrification across the nation.
In an article in The Atlantic a couple of years back called, The Criminalization of Gentrifying Neighborhoods, Abdallah Fayyad writes:
"…Over the past two decades, gentrification has become a norm in major American cities. The typical example is a formerly low-income neighborhood where longtime residents and businesses are displaced by white-collar workers and overpriced coffeehouses. But the conventional wisdom that image reflects—that gentrification is a result of an economic restructuring—often leaves out a critical side effect that disproportionately affects communities of color: criminalization.
When low-income neighborhoods see an influx of higher-income residents, social dynamics and expectations change. One of those expectations has to do with the perception of safety and public order, and the role of the state in providing it. The theory goes that as demographics shift, activity that was previously considered normal becomes suspicious, and newcomers—many of whom are white—are more inclined to get law enforcement involved. Loitering, people hanging out in the street, and noise violations often get reported, especially in racially diverse neighborhoods.
"There's some evidence that 311 and 911 calls are increasing in gentrifying areas," Harvard sociology professor Robert Sampson told me. And "that makes for a potentially explosive atmosphere with regard to the police," he added.
By degrees, long-term residents begin to find themselves tangled up in the criminal-justice system for so-called "quality of life" crimes as 311 and 911 calls draw police to neighborhoods where they didn't necessarily enforce nuisance laws before. As Paul Butler, a former federal prosecutor in Washington, D.C., describes it, misdemeanor arrests are more reflective of police presence than the total number of infractions committed in an area. "It's not a question of how many people are committing the crime—it's a question of where the police are directing their law-enforcement resources," Butler said. "Because wherever they direct the resources, they can find the crime."
Fayyad succinctly connects the dots across the country with other similar situations in Washington, DC and San Francisco.
A detailed analysis NYPD-referred 311 calls done by Community Service Society revealed the following disturbing trends:
The highest quality-of-life complaint rates occurred in lower-income communities of color with the largest influxes of white residents.
311 complaints for quality-of-life issues were significantly more likely to end in a summons or arrest in lower-income communities of color that experienced the largest influxes of white residents.
The largest increases in NYPD-referred complaints occurred in communities of color with large influxes of white residents accompanied by new housing development. But within these areas, the complaint rate increased significantly faster where new, city-financed affordable housing development was also present.
These findings by CSS are particularly disturbing knowing full well that the vast majority of "affordable" housing has been constructed in the South Bronx, particularly in Melrose where over 4,000 units across dozens of developments have been constructed and the latest, La Central, is rising and will have almost 1,000 such units.
And again, we can't stress enough that we all deserve to live in safe neighborhoods free from fear of crime. That is not the question.
The question we ask is, "Why now?"
Don't believe us?
Here are a few articles on the well-documented subject of policing and gentrification: