Lohud is reporting that at a meeting this morning, MTA officials announced that the agency's disagreements with Amtrak have been resolved on using its rails for the long-awaited Penn Station Access Project, which would bring four new Metro North Stations to the East Bronx.
Amtrak has basically been holding the project hostage for years now over disagreements on how much the MTA should pay for the right to use their rails for Metro North service from the New Haven Line straight into Penn Station, a price the MTA said was too high.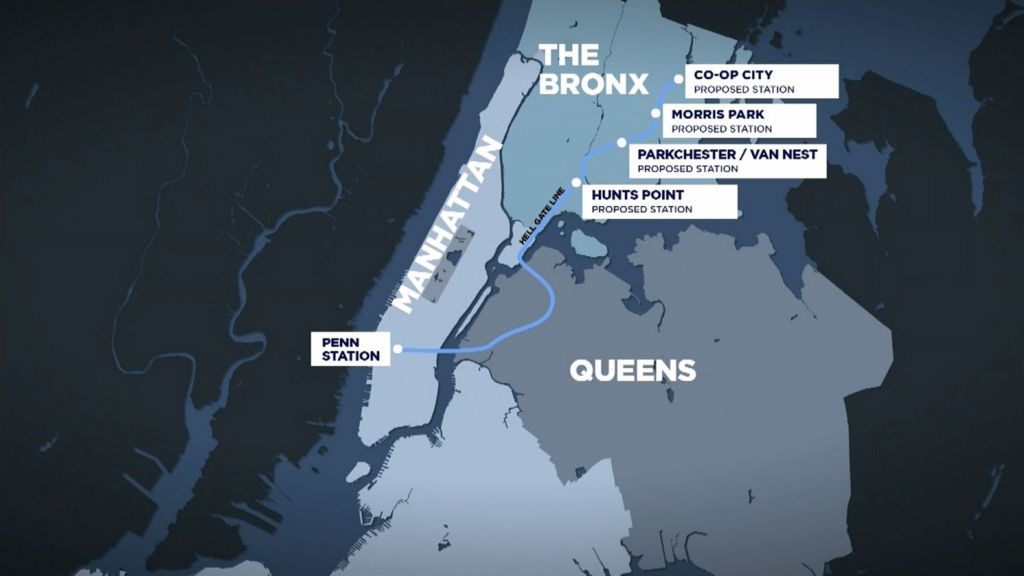 Now the East Bronx seems to finally be on track to get four new Metro North stations in the transit-starved region of our borough.
Lohud writes:
At a Metro-North meeting in Manhattan today, a top-ranking MTA official credited Gov. Andrew Cuomo with helping to break a logjam with Amtrak that had stalled the opening of bids for the project.
"We're very excited about this," Janno Lieber, the MTA's chief development officer, told board members today.  "It's a long time coming."
The new stations are slated for Co-op City, Morris Park, Parkchester, and Hunts Point and will save commuters invaluable time a week on their commutes to work both in Manhattan and employment centers in Westchester County and Connecticut.
In a statement, Senator Charles Schumer said, "Following helpful clamoring from public officials from the Bronx and Westchester, that I was proud to support, I'm so glad that Amtrak and the MTA have forged an agreement to establish an exciting new travel option for transit-starved commuters in the East Bronx and Westchester. It is great news for Bronx and Westchester commuters and will reduce travel times, increase reverse commuting options, create four new stations in the Bronx, provide a direct link to Manhattan's bustling Westside and boost economic activity," said Senator Schumer, who added: "To make this project a reality, it is more urgent than ever that we repair the aging and Sandy-damaged East River Tunnel through which this new line must run, and I urge the MTA and Amtrak to use the $500 million in federal funds I secured for this project to get started ASAP."

The MTA issued the following press release later today:

"Too many residents of the Bronx have been without reliable transit, which is why I proposed these new stations," Governor Cuomo said. "With a reconstructed Moynihan Station currently underway, these four stations not only will connect the east Bronx to Manhattan's West Side, but also build upon our ongoing efforts to fully transform our state's transportation infrastructure. I want to thank the Empire State Development Corporation for their assistance in the expedition of this project to unleash a new generation of economic development in the Bronx. I also want to thank Amtrak for their agreement."

Acting MTA Chairman Fernando Ferrer said, "Bringing Metro-North service to the east Bronx is a game changer for the borough, and we have all been eager to get started. This project will significantly reduce travel times for east Bronx residents and help area businesses and institutions attract employees. This is a long-held dream of mine and hundreds of thousands of Bronxites. Needless to say, we salute Governor Cuomo's leadership with Amtrak to let the MTA get this project moving."
But we'll believe it when we see construction of the new stations actually happening!