Earlier this year we reported that demolition of Our Lady of Pity Roman Catholic Church on 151st Street in Melrose had begun.
Now the Archdiocese of New York, through the Association of New York Catholic Homes has announced that the beloved church will give way to affordable housing.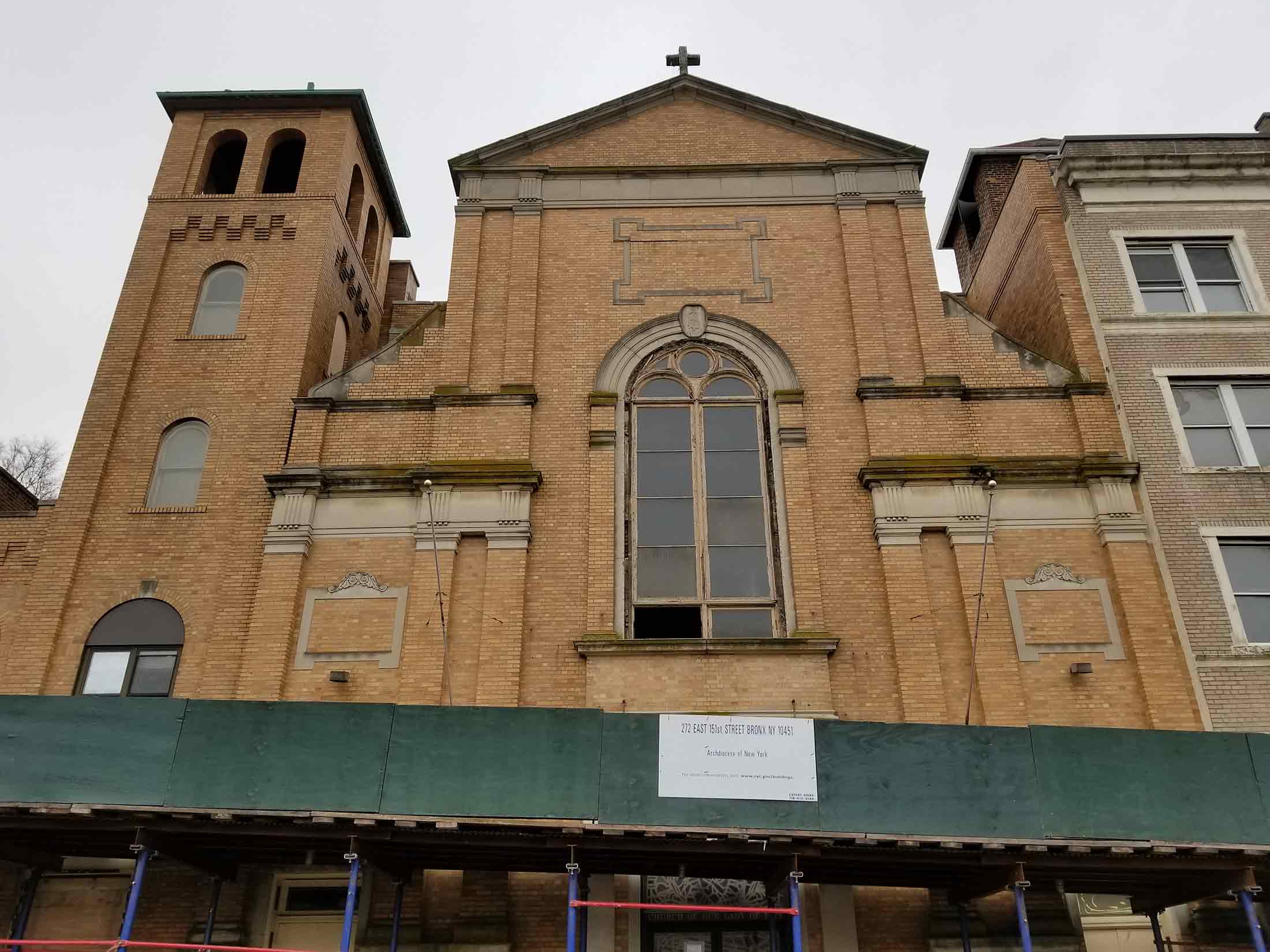 In a community meeting last night, community leaders and residents were informed that the site has a potential to accommodate 212 units spread across two buildings.
According to documents obtained by Welcome2TheBronx, the proposal would be for two buildings: One located at 151st at the site of the former church and a second building on other side of the block on 150th Street.
The buildings would share a common courtyard with one rising 8 stories and containing 88 units and the other rising 9 stories with 124 units.
During the meeting it was mentioned that the church bell would be preserved and incorporated into the new buildings and it was recommended that an inscription should be placed somewhere within the new development, in Italian, to commemorate the Italian community from Ponza, Italy who built the church.
The Archdiocese would have to request a zoning change from its current R6 zoning to an R7A zoning which would trigger Mandatory Inclusionary Housing (MIH) that would require a percentage of the units remain permanently affordable.
Current proposals are for studio units to three bedroom units for households making 30% to 80% of the Area Median Income (AMI).
The ULURP process has already begun with a Pre-Application Statement submitted to City Planning in August 2018 and on October 10th, the development team presented their proposals to City Planning..
Next steps in the process calls for several environmental studies on the impact such a development would have on the neighborhood.
Provided everything goes smoothly with, expected completion date of the Our Lady of Pity Affordable Housing Development, as it is currently known, would be for sometime in 2022.
No renderings of what the development will look like are currently available as an architect has yet to be engaged.