Since it was announced in 2013, the redevelopment of the Kingsbridge Armory into the world's largest ice center has been plagued with false starts.
But after all these years it may actually be close to happening.
Crain's is reporting that Citibank is close to financing the first phase of the estimated $350 million project that would convert the landmark armory into a massive ice center with 9 ice rinks, food, beverage and retail spaces, and even community spaces.
If approved, construction is reported to begin in the middle of 2019 and would include the first five rinks as part of that phase.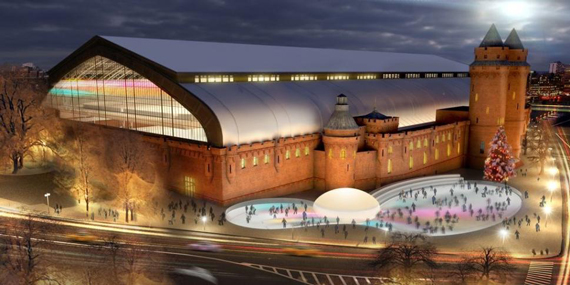 Crain's writes:
Kevin Parker, a former Deutsche Bank executive, who along with former New York Rangers star Mark Messier envisioned redeveloping the cavernous 5-acre armory into a skating center with nine rinks, athletic facilities and stadium seating for 5,000, told Crain's that Citibank was close to awarding the group a construction loan. A spokeswoman for the Empire State Development Corp. also said that the group was in advanced conversations with Citibank for the financing.

"Citibank is committed to doing the first phase of the project," Parker said. "And they've indicated a strong desire to finance the second phase. But we're going one step at a time."

A spokesman for Citibank declined to comment.

Parker said the first of the planned two-phase conversion would involve the installation of five of the nine rinks. He said the development group would close on the construction loan in the coming weeks and work would begin in the middle of next year.
We still think that 9 ice skating rinks in The Bronx is overkill and we strongly question who will this exactly benefit as our borough doesn't really have a strong history and connection with ice skating or hockey for that matter.
It's pretty obvious that this will be for Westchester and other residents more so than it will be for actual Bronxites.
But of course our elected officials will tell us, "but we're getting JOBS!" so it must be good no?
At any rate, we're not holding our breath until shovel actually hits the ground with this one.