After years of waiting, The Bronx's four new Metro North Stations that are coming to Co-op City, Parkchester, Morris Park, and Hunts Point have taken a step closer to becoming a reality.
But we need YOU our residents and community stakeholders to be involved in the process to ensure that residents benefit from these new stations that will provide unprecedented access to the region and employment centers for thousands of Bronxites.
As you know and we have reported in the past, The Bronx has the highest rate of reverse commuting in the entire nation which is defined as commuting in the opposite direction of a city's core and instead traveling into the suburbs.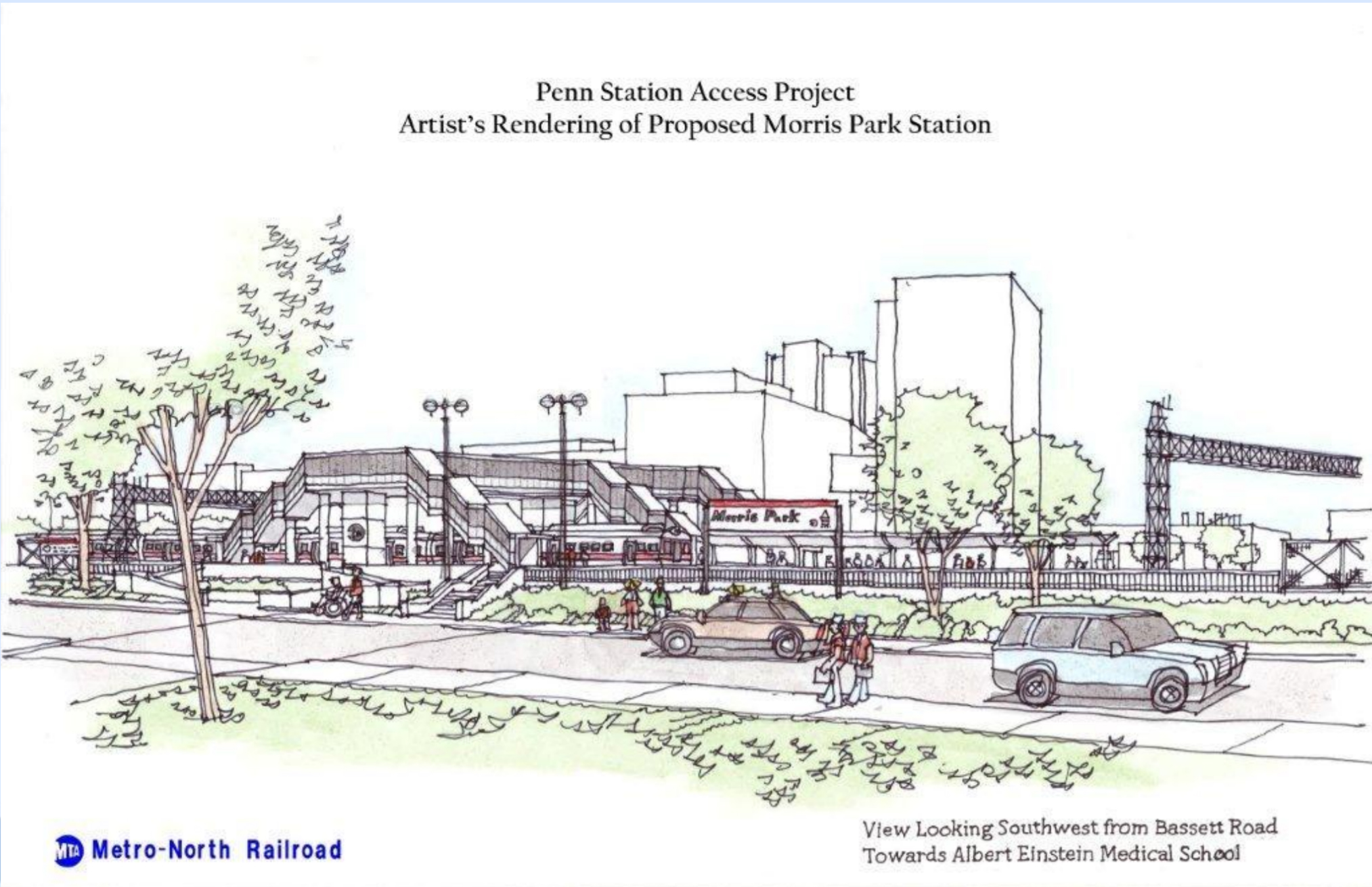 That being the case, these four stations which will provide access to not just Penn Station but also to Eastern Westchester County and Connecticut will be a boon for residents who currently would have to take buses or drive.
Here's the full information on the next steps from the MTA:
On July 31st, 2018, the Bronx Metro-North Station Area Study officially launched, with Bronx Borough President Ruben Diaz Jr, the NYC Economic Development Corporation, the NYC Department of Transportation, and the Department of City Planning convening a Working Group of elected officials, community institutions, area stakeholders, among others, to start the conversation on planning around this exciting investment in regional transportation in the Bronx. See our 
 one-pager for more information and read the press release
What is the Bronx Metro-North Station Area Study?
Metro-North service is coming to the east Bronx following the completion of the Penn Station Access project and related work. Four new Metro-North stations will be located at Hunts Point, Parkchester/Van Nest, Morris Park, and Co-Op City. Thoughtful, holistic planning around each of the stations is critical to ensuring these stations are integrated into the fabric of the neighborhoods they will serve and will mean the difference between merely establishing new service and ensuring the service is a transformative and positive force in the lives of Bronx residents and their economy.
The Bronx Metro-North Study (BMNS) will look closely at each of the station areas to ensure maximum benefits accrue to the borough as a result of this unprecedented investment in transportation infrastructure and new service. BMNS will lead to short-term and long-term recommendations and improvements around the proposed stations, including safety and access improvements such as crosswalks, sidewalks, and wayfinding elements; better coordination with existing and planned subway and bus service. BMNS will also evaluate land uses and economic development opportunities at Morris Park and Parkchester/Van Nest.
Close coordination among the Metropolitan Transportation Authority (MTA), the Department of City Planning (DCP), the NYC Economic Development Corporation (EDC), and the NYC Department of Transportation (DOT) —together with the Bronx Borough President's Office and other key city agencies and stakeholders — will be critical to ensuring the stations are thoughtfully integrated into the fabric of the neighborhoods they will serve.
History
In 2017, New York State committed nearly $695 million in its 2015–2019 capital budget to make the new stations and new Metro-North transit service in the East Bronx.
To prepare for these new stations, in 2014, after a three-year planning process, the Department of City Planning released a milestone report — Sustainable Communities in the Bronx — on regional rail and transit connections in the borough. That report included recommendations on numerous improvements to existing Metro-North stations throughout the Bronx. Work around those existing stations continues and promises improvements to the commuting experience of Bronx residents, providing a comfortable, fast, and convenient connection to major job and cultural centers not currently available to Bronx residents.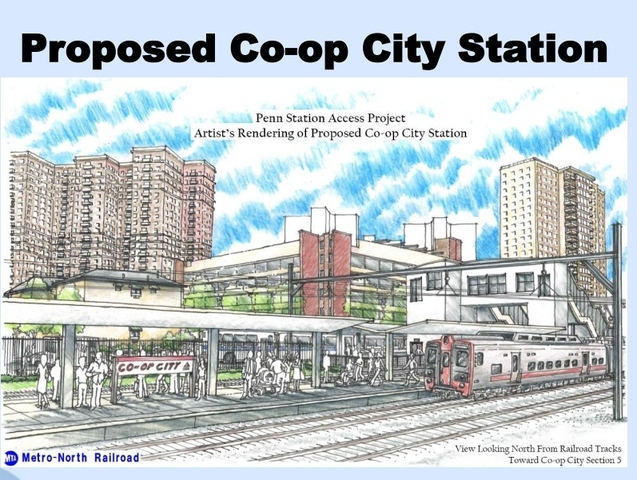 In addition to improvements around existing stations, the report also identified the need for greater planning around four stations planned for the East Bronx: Co-Op City, Morris Park Ave, Parkchester/Van Nest, and Hunts Point. BMNS will act as the next phase of the Sustainable Communities study.
Overview of the Study Area
Distributed along the existing Northeast Corridor rail line — which today also carries Amtrak trains and freight— the stations will be located at Co-Op City, Morris Park, Parkchester/Van Nest, and Hunts Point. The planning work help ensure that the stations themselves are as integrated into the surrounding neighborhood fabric as possible.
BMNS will look at transportation issues around all four stations, including:
Collaborating with Metro-North around station-level design.
Developing strategies to address pedestrian access and safety needs to enhance access to the stations.
For Parkchester/Van Nest and Morris Park, BMNS will also look more deeply at land use and economic development issues, to include:
Refining recommendations on levels of growth and uses in opportunity areas to include zoning districts.
Understanding market needs and opportunities around each station area for residential, commercial, and institutional growth.
Understanding opportunities for economic development and job growth to support existing development and meet borough and city-wide needs, especially in the medical services and life sciences research fields.
Identifying infrastructure investments (sewers and drainage, transportation, broadband, schools, e.g.) needed to support station area growth and redevelopment.
Schedule and Process
Over the course of 2018-19, the Department of City Planning, the NYC Economic Development Corporation, and the NYC Department of Transportation, in partnership with the MTA, will embark on a comprehensive study of the Morris Park, Parkchester/Van Nest, Hunts Point and Co-Op City station areas. DCP, EDC, DOT. The study team will be co-chaired by the Bronx Borough President and will convene a Working Group to oversee the study, create a driving vision, guide public outreach, help convene area stakeholders and residents, and shape priorities and recommendations for each station-area. Public planning events will be offered around each station to ensure local input into station-area plans
Feedback and Questions
For questions related to the Bronx Metro-North Station Area Study, or to join the study mailing list to keep apprised of public events and communications, please email BMNS@planning.nyc.gov or call (718) 220-8500.