The New York City Environmental Justice Alliance has identified the twelve most heat vulnerable communities in the city and unsurprisingly twelve are located in The Bronx.
Dozens of neighborhoods that make up Bronx community boards 1 through 6 like Hunts Point, Melrose, Mott Haven, Port Morris, Longwood, Fordham, Belmont, West Farms, and many more are at higher risks for fatalities during heat waves.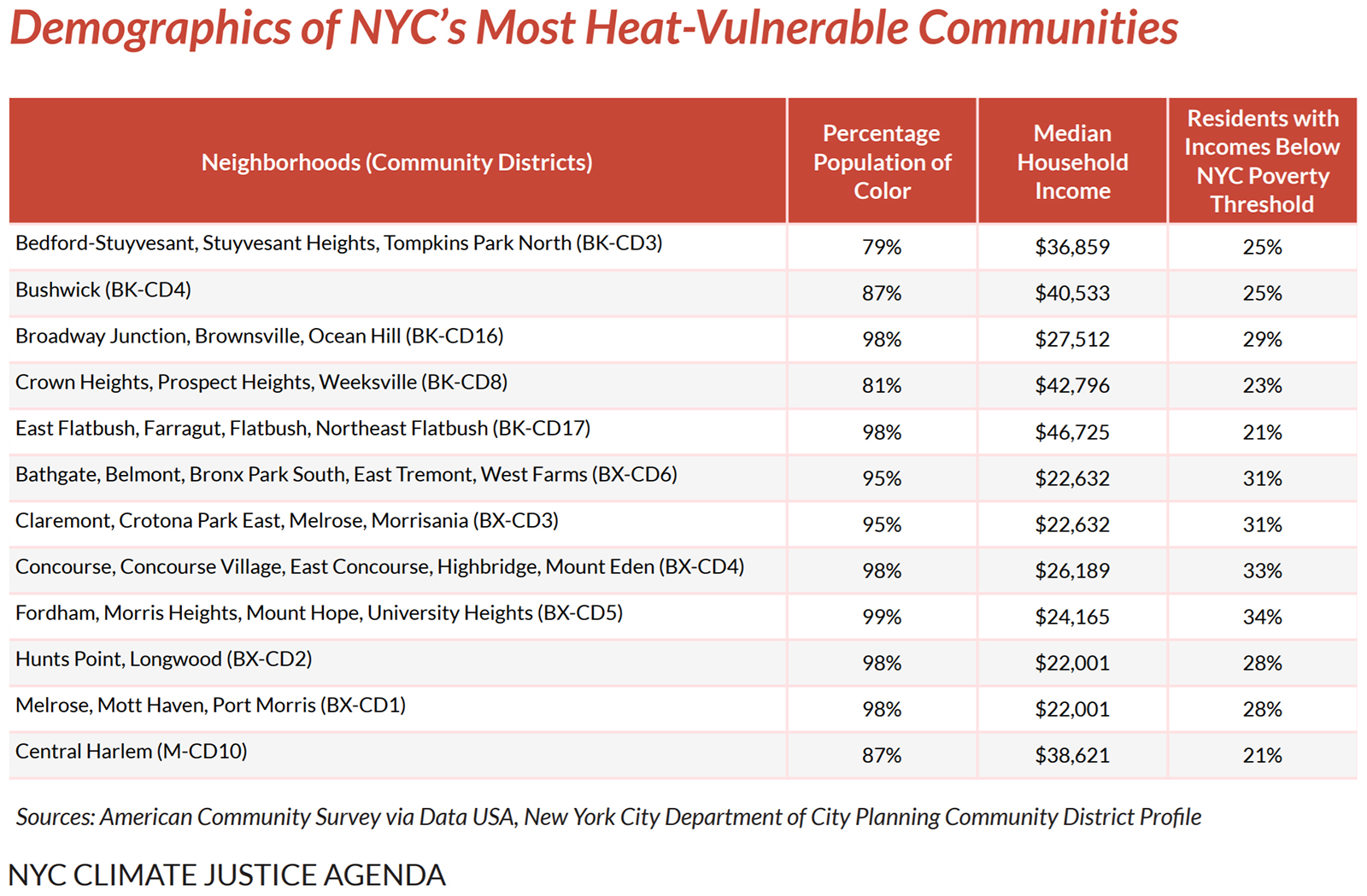 50% of all heat related fatalities between 1979 and 2014 were Black residents according to study by NYC Department of Health yet only account for 25.1% of NYC's total population.
This is largely attributed to the fact that communities of color are often used as dumping grounds for industry and waste management, something the South Bronx is all too familiar with.
Because of this very fact, Hunts Point was singled out due to the neighborhood's lack of green spaces as well as being home to the largest food distribution industrial park in the world.
The Outline writes:
According to Grist, Hunts Point is a major waste dump site — over a dozen waste stations are located in the 13,000-person neighborhood. It's also a major truck route, creating a build-up of exhaust that heats the area. Meanwhile, Hunts Point lacks virtually any green space to help stabilize temperatures.
Over at The Grist, they report:
On a hot summer day in New York City last July, Ajohntae Dixon was studying at home when he began struggling to breathe. With no air conditioning in his apartment, the temperature inside surged, and the 15-year-old's gasping quickly progressed into a full-blown asthma attack under the oppressive heat. He took his inhaler and then tried his nebulizer, but he was still fighting for air.

By 8 p.m., Dixon was in the emergency room. And after that overnight hospital stay, he and his mom installed air conditioners in each of their rooms to cut the chances he would have to go back.

While Dixon was able to make it to a hospital during his asthma attack last summer, many others who suffer from chronic health conditions aren't so lucky when the temperature spikes.

Hunts Point's primarily black and brown residents live near heavy industry that fulfills two city-wide necessities: bringing food in and getting waste out. It is home to the largest wholesale produce market in the world and hosts more than a dozen waste-transfer stations. (The South Bronx handles almost a third of New York City's waste.) As a result, a neighborhood with 13,000 people has one of the highest concentrations of truck traffic in the Big Apple. And those vehicles pipe in hot exhaust to the already sweltering community — contributing to higher rates of asthma linked to pollution.

Hunts Point has long been a part of the city with one of the lowest parks-to-people ratios. But over the past decade, locals have pushed to develop more green space along its riverfront. "Traditionally, this community has been understood by the City of New York as an industrial area in nature," says Angela Tovar, director of community development at The Point CDC. "So there was no prioritization of street trees, of any sort of mitigation to be able to bring down the temperatures in the community."

Indoor temperatures in large city buildings are often even hotter than outdoor ones, especially at night. So people without air conditioning, senior citizens, and anyone who has difficulty getting out and about to find a place to cool down are especially vulnerable during a heat wave. People with chronic medical, mental health, or developmental conditions are also at greater risk.

According to the city's Office of Emergency Management, a majority of heat-related deaths occur in homes without AC. In all twelve New York neighborhoods with the highest heat vulnerability, between 21 to 34 percent of residents are living below the city's poverty threshold. In Hunts Point, the average median household income is slightly more than $22,000; after paying for rent and food, many residents don't have enough left over to buy an air conditioner or pay for the extra electricity needed to power it.
Read the full stories: