A new study has shown that 311 complaints are up in gentrifying parts of the South Bronx according to data gathered by BuzzFeed.
Several of the areas also show that these complaints have risen in areas where the Black and Latino population has decreased as the white population has increased such as Port Morris, Mott Haven, and the Grand Concourse further illustrating the often tense racial divide as gentrification plows through our borough.
As of the 2016 American Community Survey (5-year estimate) from the US Census, the Latino population has dropped 8.28% in Port Morris while the white population has increased by 1.53%.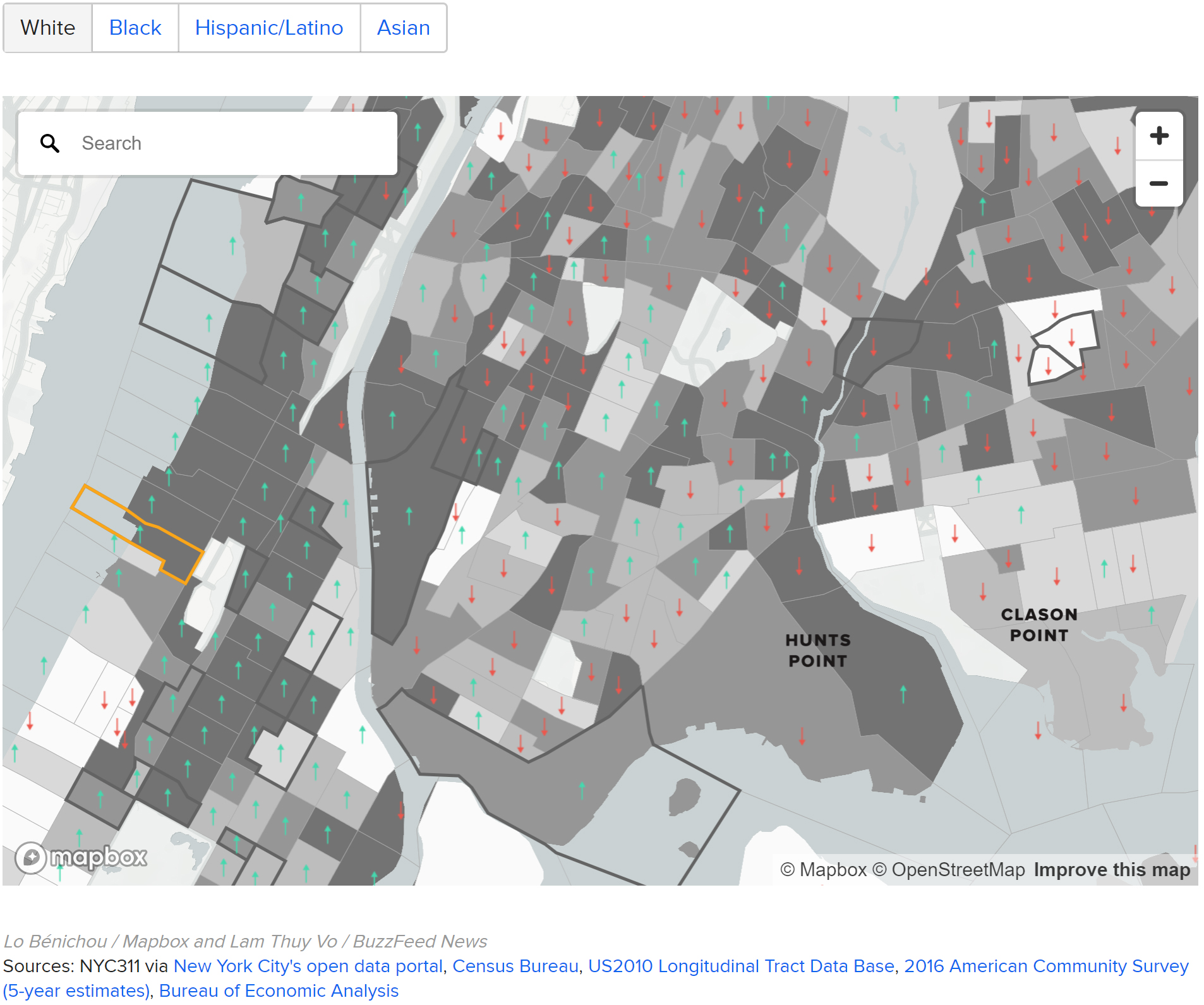 Over along the Grand Concourse area (165th street and below) the Black population has decreased by 9.03% within 3 census tracts that covers the majority of the co-ops in the area while the white population has increased by 1.72%.
It might not seem like much but in an area that suffered from White Flight in the 70s and 80s, it is quite a significant increase.
Although the article focuses on Washington Heights, the results are the same across NYC and The Bronx as cops are called on people who are simply minding their own business whether it's playing dominoes on the street or listening to music, or just having a good time.
Ramon Hernandez has been sitting in a fold-up chair on his Harlem block every summer for decades. One recent evening, the 105-year-old had an evening dominoes game going with a couple of his neighbors as music played out of a nearby parked car. It's a tradition in the historically Latino neighborhood that has been largely undisturbed for decades.

That is until "the cops started coming about two years ago," said Edward Tineo, 42, one of the guys who plays dominoes with Hernandez.

The increased police presence "makes me feel bad. I've been living here for more than 40 years," said Hernandez through his granddaughter, who translated for him. He likes to sit outside to "get some fresh air."

What's changed?

A BuzzFeed News data analysis shows there has been a dramatic increase in 311 quality-of-life complaints on the block starting in 2015, the majority about noise. The uptick coincides with the neighborhood's gentrification, with more white people moving in, and homes getting more expensive. And while not every 311 call results in a visit from the cops, officers from the local precinct do respond when they're not handling emergencies.
Oftentimes many people, myself included, do not like to talk about the uncomfortable topic of race when it comes to gentrification but it is one we can't avoid.
Many neighborhoods of color that are now gentrifying like the South Bronx find themselves at odds with their new neighbors who rather than accepting the existing culture would rather replace it.
This isn't to say that we shouldn't aspire to have better neighborhoods but it should come from within the existing culture to chart the destiny they'd like to see for the place they've called home for 20, 30, 40 years or more as is the case with most residents who have lived here a lifetime.
This isn't to say either that we can't coexist (as long as you don't raise our rents and erase our culture we're good).
Our advice to gentrifiers is simple: If you don't like loud music, people playing dominoes on the street, kids yelling, fire hydrants running in the summer then stay out of the South Bronx. Leave us alone.