In a climate that is ever-increasingly threatening to small businesses, whenever one reaches a major milestone, we make it a point to celebrate them.
This year, Metro Optics is entering their 40th year in business serving our borough but they're no ordinary mom and pop shop.
What began as a small optical practice in Parkchester in 1978 blossomed into a business which now employs almost 50 people across four locations including their more recent addition and flagship store in Throggs Neck.
But Metro Optics goes above and beyond just simply providing quality eye care and selling the best in eyewear and tech.
This small business is celebrated by us and many others because of their dedication to our community and our people. It's not just about a business transaction but truly caring for the well-being of our residents through their community outreach efforts.
They perform hundreds of free vision screenings at health events throughout The Bronx partnering with local organizations like Loving The Bronx and BronxWorks (make sure you bookmark their calendar of events so you don't miss out!)
It doesn't end there.
You're probably not aware that they provide a scholarship to an accomplished female student who's visually impaired each year as part of The Bronx Chamber of Commerce Women of Distinction Luncheon or that they sponsor The Bronx River Flotilla which helps raise funds for The Bronx River Alliance, the stewards of our beautiful river.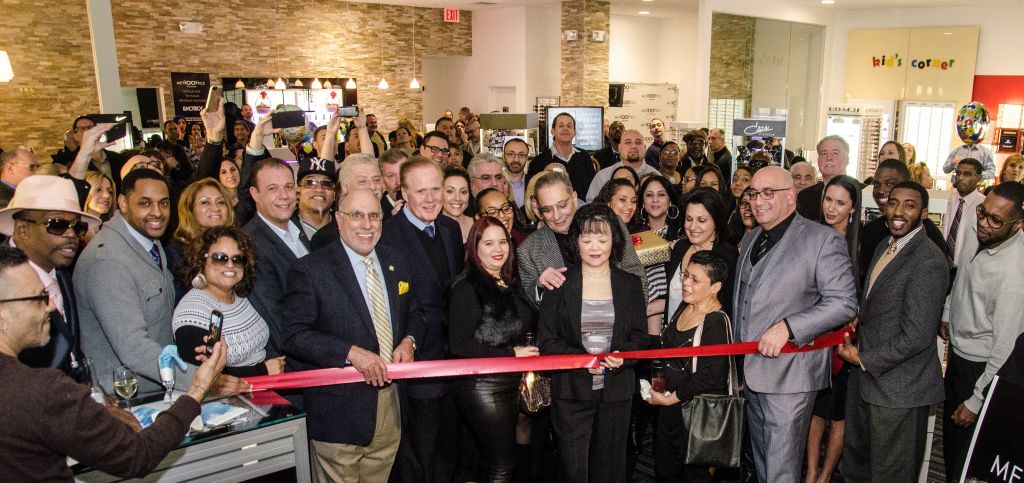 Sara Bonizio, marketing and community relations manager at Metro Optics said, "Metro Optics of Parkchester was founded by Michael T. Ungaro, a Bronx native, Veteran, one-time DJ, and entrepreneur in 1978, along with then-business partner Louis Federico."
"The original Metro Optics still occupies the same corner (Metropolitan Ave. at Benedict), and continues to serve multiple generations of Bronx families with comprehensive eye care and an extensive collection of eyewear," added Bonizio
We asked Ungaro what has changed in the industry in the past 40 years since they opened and he said, "When I founded Metro Optics Eyewear in 1978, most optical establishments were independently owned, with the exception of small regional chains"
"Most patients visited their local optometrist and optician for their eye care and eyewear needs. There was a limited selection of frame and lenses choices: Frames were mostly black and brown and lenses were mostly made of glass, some plastic.  We bought our products from small family owned optical companies, many based in the Tri-State area." he added.
Ungaro also mentions that back then bifocal glasses had that signature line on the glass whereas today you have the progressive lenses with no visible lines offering multiple viewing ranges in a single lens.
Today, technology is ever present in the industry and Metro Optics is at the forefront as an early adopter of tech like the 3D printed Roger Bacon Eyewear we featured last year where you get your face scanned and then, using the precise measurements from the scan, you get frames 3D printed that sit perfectly on your face providing you with unparalleled comfort.

But the biggest change ins't necessarily the tech.
"It's the corporate footprint in eye care," says Ungaro.
Cheers to Metro Optics on their anniversary and here's to many, many more decades in our community.
Thanks to all that you have done for our residents and continue to do.